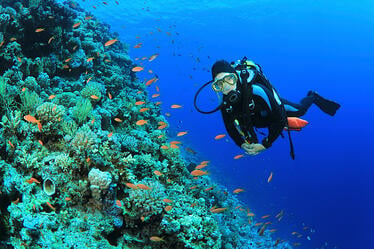 Scuba diving in Belize has long been a huge attraction, and many of the million yearly tourists take advantage of the guide services offered on the island of Ambergris Caye. Several of the most popular diving locations are located within Hol Chan Marine Reserve, such as the famous Shark Ray Alley.
Tour guides have also long used the area surrounding the various parts of Hol Chan Marine Reserve to promote diving and snorkeling activities.
Expansion of 138 Square Miles
The Reserve is about to receive an enormous addition of 138 sq miles. To put that in perspective, the entire Reserve was about 21 sq miles before this expansion. Added to the Reserve are sections of coral reef, mangrove wetland, seabed and shoals.
The Belize Cabinet as well as the tourism industry are excited about the Reserve's expansion, as it promises additional tourism and at the same time preservation of the pristine attractions.
Fruition After Five Years of Lobbying
While there has long been a charge to visit and dock at Hol Chan Marine Reserve, the larger areas surrounding the Reserve have been free for tour guides to visit.
That will change as they become incorporated into the Reserve.
Some critics have said that will be a burden, but the majority of tour guides support the expansion. Many even helped spearhead the action, which has come to fruition five years since initial lobbying began.
Expanded Protection for Belize's Beauty and Ecology
Tour guides benefit from the larger area of the Hol Chan Marine Reserve because it protects the natural elements that bring tourists to scuba dive in Belize in the first place.
This expanded protection ensures that Belize's ecological wonders will be thriving long into the future.
There are thousands of species of marine life that frequent the Reserve, and the channel in the reef (for which Hol Chan was named in Mayan) allows fish to enter and exit the reef area.
Sustainability of Scuba Diving & Ecotourism
Scuba diving in Belize consistently ranks among the best in the world, and tourism numbers for the island of Ambergris Caye are growing enormously. To keep up with that demand, Belize and private developers alike have been putting a lot of investment into infrastructure and construction.
In order to keep up with this level of development, great attention must be paid to keeping Belize's scuba diving and ecotourism industries sustainable.
Visit Hol Chan Marine Reserve
Hol Chan Marine Reserve is a must-see destination for those visiting Belize, and offers scuba diving and snorkeling options for all skill levels. Now that the Reserve contains such a large area, there is even more to safely explore for tourists and locals alike.
When booking your next trip to Belize, be sure to include Hol Chan Marine Reserve in your plans, because the diverse areas of the Reserve are all worth seeing.
Discover why so many visitors enjoy staying at Exotic Caye Beach Resort when visiting Belize.