Discover Belize: An English Speaking Haven in Central America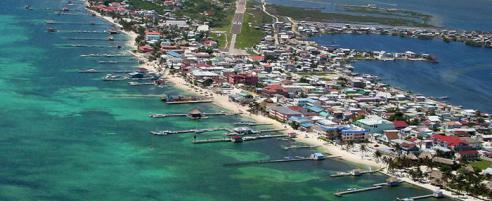 Belize is a Central American country south of Mexico and east of Guatemala with its eastern border on the Caribbean Sea. It is the only country in Central America to have been a British colony (called "British Honduras") which means it is the only country in the area where English is the official language (though Spanish is spoken by some).
The Geography of Belize
Belize is a small country, 174 miles at its longest point by 68 miles at its widest point. The Cayes (pronounced "keys") sit along the 190 mile long Barrier Reef. Ambergris Caye is both the largest and most northern of the cayes.
The mainland consists of lowland mangrove areas along the coasts to rugged, jungle mountains inland. The climate is subtropical with an average temperature of 80 degrees.
The total population of the country is approximately 250,000 with the major commercial center being Belize City, population 80,000. Belize is ethnically diverse and includes descendants of the original Mayan culture and various mixtures of Caribbean people, Caucasians, Chinese and East Indians.
Belize´s National Government
Belize has a long history of peace, stability and democracy. It became a British Crown Colony in 1862, gained self-rule in 1964, and became an independent member of the Commonwealth in 1981.
The political system is a Parliamentary Democracy. Executive authority is exercised by the cabinet under the leadership of the Prime Minister, subject to the approval by a 29 member House of Representatives elected every five years. In addition there is an 8 member Senate with the majority appointed on the recommendation of the Prime Minister. The laws of Belize are derived from English common law.
Belize´s Currency
The local currency is the Belize dollar which is tied to the US dollar at a fixed exchange rate of US $1.00 = BZ $2.00. Ambergris Caye is represented by Belize Bank and Atlantic Bank with public hours generally 8:30 am to 1:00 pm Mon-Fri.
Visa/MasterCard and American Express are accepted in many establishments, however, you will want cash and/or travelers checks for the smaller restaurants and shops. You can spend US dollars.
Communications From Belize
Though you will want to unplug on your holiday, we know that you need to stay in touch with those off the island. There is easy access to telephone, fax, and e-mail and Ambergris Caye hosts a "cyber café".