Ambergris Caye Restaurants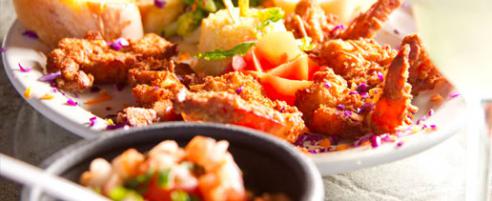 Exotic Caye Beach Resort Restaurants
Hot Spot Bar & Grill
Check out our newest on-site dining option, Hot Spot Bar and Grill for some authentic homemade fare.
Best-sellers include stuffed jalapeno peppers, lobster fritters, traditional seafood ceviche and Caribbean chicken fingers. If you are in the mood for something heartier, dinner items include quesadillas, hamburgers, fresh seafood dishes and local favorites like stew chicken with rice, beans, coleslaw and sweet fried plantains.
It's a great place to hang with new friends, decipher the staff's riddles, and enjoy the ocreanfront view. Stop by on a Sunday afternoon for some unforgettable BBQ!
Hot Spot Bar is conveniently is located just above the Crazy Canucks Bar at the Exotic Caye Beach Resort.
Coconut Cafe
The Coconut Café, located at Exotic Caye Beach Resort, provides made-from-scratch comfort food for breakfast and lunch. Open daily from 7am to 3pm (closed on Wednesday) the Coconut Café offers a wide variety of breakfast plates, pizzas, paninis, burritos and wraps, made from only the best locally sourced ingredients. The full menu is served all day, and that includes breakfast.
Life is better when it's made from scratch! That's the motto of the Coconut Café. Home-made sauces, breads and sweets will delight your taste buds, while the beach-side, pool-side or patio seating will make you feel like you have found heaven.
Want to find out more about the Coconut Café? Visit their website at http://www.coconutcafebelize.com or check them out on TripAdvisor (ranked in the top 10 of best places to eat in San Pedro).
Dining on Ambergris Caye
The island of Ambergris Caye is home to many restaurants. This list is by no means complete, but it will give you an idea of the variety and flavors available. Swing by the front desk for recommendations.
PepperOni's
If you're hungry for a pizza, PepperOni's is the place to get it. Conveniently located right outside the Exotic Caye Resort.
Caliente Mexican & Caribbean Cuisine
Open from 11am - 9:30 pm. Closed on Mondays
Located on the beach in the Spindrift Hotel and the other is located north of Captain Morgan's. Serving lunch and dinner daily. Add some Caliente when in San Pedro.
Pinocchio's Italian Restaurant
A delicious restaurant only 3 minutes walk from Exotic Caye Beach Resort. This family from Rome has created a traditional Italian menu that satisfies everyone's desires. Home made pasta and wood fire pizzas are the premise for this open-air gem. Head on down for a cold beer, glass of wine and a delicious meal. Truly Italian!
Hidden Treasure
For Reservations please call 226-4111
Discover great food in an enchanting setting. Featuring Latin American and Caribbean cuisine. Open for Lunch and Dinner.
El Divino's
Phone: 226- 3890
At Banana Beach, indoor (fully air-conditioned) and outdoor dining, serving breakfast, lunch and dinner. Featuring a Brazilian Rhodesia Grill and the Brick Pizza Oven. The Martini Lounge is a full service bar, with a variety of choice drinks and imported wines. The best Ceviche on the Island and Mondays are 2 for 1 Martini's.