Testimonials From Our Guests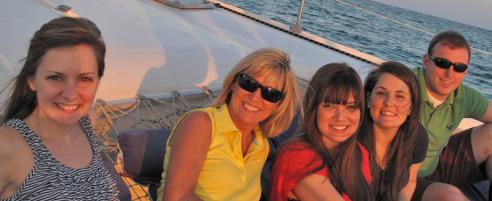 "Your resort is amazing!"
We stayed at Exotic Caye Beach Resort this past December. We were part of the Z/C wedding party. Your resort is amazing! The staff was very nice and hospitable. Our room was thoroughly cleaned daily. I can not think of one thing we would have changed. Thank you so much for helping to make our stay one we will never forget.
Sarah T.
"This is an Adventure You Will Want to Repeat"
Not bad when you can leave 20 degree weather at 6 am and by 1 pm be in 80 degrees and sunshine. It's great having the sun and warmth but more important is the friendliness you find in Belize a country just south of the U.S. The Belize people are some of the friendliest people you will meet and the official language is English including news papers, maps and signs, so getting around is very easy. This may be a third world country but the location, easy to get here, the climate, beautiful blue green Caribbean water, the second largest reef in the world and the jungle in the highlands which is very pleasant year round you cannot beat Belize.
If you are looking for a place for a holiday or a place to live you need to check out Ambergris Key. There are plenty of properties at the right price with a new condo development coming out of the ground called Gran Baymen www.grandbaymen.com/ambergris_caye.html.
J. Braley
"Amazing Trip!!"
We spent our Christmas at the Exotic Caye Beach Resort and had a great time. Paul and Kelly went the extra mile to make our trip memorable. The whole resort is absolutely amazing and we can't wait to go back!
Jeff M.
Jacksonville, FL
"A Gem Worth Considering"

I just returned from a delightful vacation - my first time to Ambergris Caye - and stayed at the Exotic Caye. While admittedly not the newest property on the Caye or the most luxurious, it was simply perfect! My condo (i.e. hut) was basic - but clean, comfortable, and roomy. It had everything that I needed. The location was perfect - a pleasant walk to anything and everything.
The staff and service were perfect. The managers, Kelley and Paul along with the Exotic Caye team, make you feel welcomed and appreciated. The property is safe, and the on-site dining options are among the best in San Pedro. Access to the San Pedro Fitness Club is an added bonus. While it too is basic/no frills and even a bit dated, it has any/all equipment anyone would need to maintain their fitness regimen while in Belize. This was a huge plus for me, as I am not aware of any other property that has access to a fitness facility (and the pool is gorgeous!).
Suzy Y.
Pittsburgh, PA
"Why Would You Stay Anywhere Else in San Pedro?"

Besides the best view of the ocean from your room, the service is outstanding. We have stayed at Exotic Caye several times and it is one of the reasons we now own our own place down the road. Paul and Kelly are the best - there is nothing they won't do to make your stay memorable. Kelly even drove me to a doctor one day!
The resort is certainly not on the international scene, but it is comfortable and warm. If you want a huge pool, they have one that is located (with a health club) about two blocks inland - the largest pool on the island. Besides the fun bar (Crazy Canuck's) and an great restaurant (Blue Iguana Grill) on the premises, you are walking distance to a number of other eateries, a grocery store, fruit and vegetable stand, and a short walk down the beach to town.
Anyone who stays here will feel at home and part of the community so quickly, you will return time and time again.
Nancy
San Antonio, TX
"Exotic Caye Resort is the Best Place to Stay on Ambergris Caye!"
Exotic Caye resort is the best hotel on Ambergris Caye. Paul and Kelly and all the staff went above and beyond in making us really comfortable. The Blue Iguana restaurant had some of the best seafood and Bloody Marys in all of our travels. The room was beautiful and unique.
If you want the complete Ambergris experience stay here and walk the beaches or rent a golf cart either way you will have fun and Gorge's kitchen is a 2 minute walk or a 30 second ride. One last shout out to Paul and Kelly who even helped us when we were back in the states deal with a golf cart rental rouge charge.
Mike and Cindy
Austin, TX
"PERFECT. Cannot Wait to Go Back!"
The Exotic Caye is - in a word - perfect. It's located on the southern part of the island, just a short walk from the more bustling areas of San Pedro. Because of it's location, you wind up with the best of both worlds -- a relatively secluded beach right in front of the resort, but also easy access to...everything!
We stayed in a standard room and though it was nothing fancy, it had everything you needed -- a comfy bed, a clean bathroom, a fully-stocked kitchen (coffee maker, microwave, pots/pans, plates, cooking utensils, even some spices), satellite TV and internet. That's not to mention that every room has an oceanside view. There is no central a/c, but there is an a/c unit in the bedroom that manages to keep the entire condo pretty cool. It was certainly the ideal little beach condo.
Also, Exotic Caye has perhaps the friendliest management/staff I have ever encountered. There isn't a single person there that won't greet you with a warm smile - from the maintenance personnel to those at the front desk. Kelly (one of the managers) was just absolutely amazing. She certainly lived up to all the wonderful things other trip advisors had been saying.
While you're there, be sure to check out the Blue Iguana Grill restaurant on site. The people there are so great, I'll have to save it all for another review [Yes, the food and drinks there are great as well. ;)]
I could just go on forever about how great of a time we had on Ambergris Caye...and it was due in no small part to the Exotic Caye. We're already thinking about the next time we can head down there!
P.S. We did go during the rainy season, and I have to say, yes it rained...but it'd do so for maybe 10 mins and then it'd be beautiful and sunny again. I'd highly recommend going during the "low season" months if you want to save a few bucks-- there are less people around, the rates on the rooms are a bit lower, and it really isn't all that rainy!
Josephine
Houston, TX
"Belize is Unique, Affordable and Convenient"
Many North Americans are aware of the wonderful and beautiful vacationing opportunities in Belize, especially on Ambergris Caye Island. I have enjoyed vacations and several conferences on Ambergris Caye myself. The island is beautiful, relaxing, and definitely a place where you can unwind. Several times I've stayed at the Exotic Caye Beach Resort and have had what feels like personal vacation experts at the resort put together different fun excursions for my family and me like snorkeling, diving and fishing. Each time the Exotic Caye Beach Resort has made my stay memorable. But I am also impressed with the many various other advantages that Belize has to offer for those who desire greater investment opportunities and visiting Ambergris Caye on either a permanent or part-time basis.
Whether it is secure and diverse financial services from Caye Bank, IRS-compliant Offshore Life Insurance from Karlsberg, IBCs and trust management from Georgetown Trust, or the real estate investment opportunities like Grand Baymen, Belize is unique, affordable and convenient. And having your personal vacation experts at Exotic Caye Beach Resort makes it a no-brainer for possibly the most wonderful vacation trip for you and your family. Belize is english-speaking, which makes it very easy to work, live and do business. Belize is almost too easy.
Scott L.
Orlando, FL