About Ambergris Caye, Belize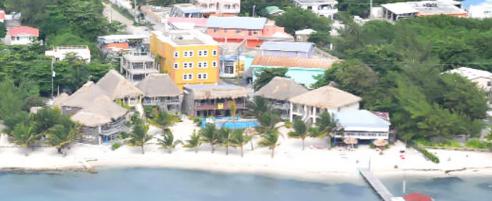 Ambergris Caye is the largest of Belize's islands, chosen by Islands Magazine in 2009 as one of their Top 10 Favorite Islands to Live On. 25 miles long and on average one mile wide, it is surrounded by the world's second largest barrier reef, with white beaches round the edges.
When you arrive you´ll rent a golf cart, taxi, or bicycle to get around. Most people go barefoot or sandals, everywhere. You can swim in the warm clear Caribbean Sea, protected by the reef. The color is unbelievable. Many people just stare at the sea for hours. The water is really warm, averaging about 82 degrees year round.
The Caye´s Caribbean Climate
The air temperature varies from the mid 60s (in the late fall) to the high 80s, with the average being in the mid-80s most of the year. May is the hottest month of the year and April the driest. The Caribbean trade winds cool the island and make life comfortable. It's paradise.
Main Island Attractions
The Belize barrier reef is the second largest in the world, after the Great Barrier Reef of Australia. It is a significant tourist attraction and a paradise for divers and snorkelers. There is a very wide range of water sports available on the island.
There are many diverse locations and geographies within Belize, but Ambergris Caye is the only one that combines the advantages of being on a Caribbean island within sight of the barrier reef, with the many amenities and activities that you would expect from a larger town.
Island Amenities
Although primarily a laid back beach town, at San Pedro you can:
Enjoy a double mocha latte at the local outdoor hangout
Buy a nice bottle of wine in one of several specialty liquor/wine shops
Treat yourself to a meal out in one of the excellent restaurants
Buy locally roasted coffee beans, fresh meat, seafood and other products at specialty delicatessens
Surf the internet on a high speed DSL line
Take a yoga or pilates class on the beach
Treat yourself to a massage or a luxurious spa treatment
Access cable TV stations

Easy Travel to Ambergris Caye
The caye has a small airstrip serviced by Tropic Air and Maya Island Air, and can be reached by plane from Belize City. It also has numerous fast sea ferries from Belize and from Chetumal in Mexico.
View a Map of Flights from the United States >>