Weddings At Exotic Caye Beach Resort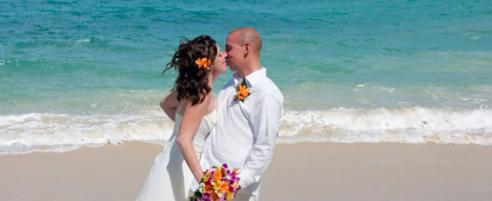 Get Married in Belize
Everyone remembers their wedding day, but getting married at Exotic Caye Beach Resort, Ambergis Caye will give you an experience that you and your guests will never forget.
Our cheerful and helpful staff will ensure that everyone will be looked after: we can arrange your ceremony, rehearsal and reception dinners, the reception party, catering, flower arrangements and provide the beach setting of your choice.
We can accommodate any size wedding from 2 people to 60 guests and have discounts for group accommodation.
Watch Your Dreams Take Off
According to an old Indian legend, if you whisper your wish to a butterfly and then release it, the Great Spirit, in gratitude for freeing the butterfly, will always grant your wish. Make your special day even more unforgettable by releasing of live Belizean butterflies into the sky with your wishes.
Honeymoon at Exotic Caye Beach Resort
If you are hosting your wedding at the Exotic Caye Beach Resort, why not enjoy your honeymoon in our honeymoon suites? We offer a king-sized bed, a jacuzzi, and the waves of the Caribbean Sea located only steps outside your room. We offer a special honeymoon and anniversary package. What more do you need?