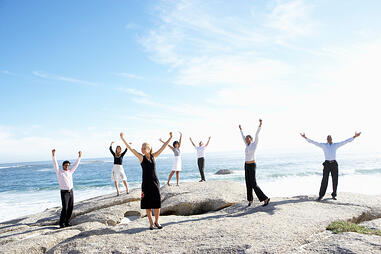 If you're in charge of planning a major event, one of the biggest challenges you'll face is where to hold it. Destinations are endless, especially if you have the chance to head overseas. With so many choices, Ambergris Caye, and the Exotic Caye Beach Resort, consistently rise to the top.
That is because the resort boasts amazing weather throughout the year, incredibly low prices, romance ideal for weddings and amenities that ensure no one is ever bored.
Discover some of the best pieces of advice and recommendations for planning corporate events, conventions, family reunions and weddings at the Exotic Caye Beach Resort on Ambergris Caye, Belize.
Wedding at Exotic Caye Beach Resort
Couples searching for a destination wedding location that offers sun, scenery and low prices need look no further than Ambergris Caye. Romance is in the air, and the settings for your ceremony can range from gardens to right on the beach.
Release live butterflies as you say I do, party the night away with your friends and family and let resort staff take care of everything from catering to flower arrangements. Plan weddings from elopements to big receptions with up to 60 people at the resort.
Conventions at Exotic Caye Beach Resort
Make your next convention or conference a more laid-back affair by holding it just steps from the beach at the Exotic Caye Beach Resort. With all the modern amenities you need to hold a successful business event, the resort still makes it appealing to attend even the most traditional of training courses or information sessions.
Whether you are planning a trade convention or a paid conference on a specific topic, hosting the event in a beautiful location will encourage more invited guests to add the event to their itinerary.
Family Reunions at Exotic Caye Beach Resort
When it comes to planning family reunions, the focus should be on fun and togetherness. Whether you all want to hang out by the pool, spend your evenings dining at eateries overlooking the water or go on adventures like scuba diving or sailing, you can do it all at the Exotic Caye. Plus, the nature of the resort means that you don't have to leave if you don't want to, and parents with children can rest assured that their little ones and teens can have freedom while retaining plenty of security.
Corporate Events at Exotic Caye Beach Resort
Businesses of all sizes often need to hold week-long courses or events specifically for their employees. Holding the event at a nearby motel might be affordable, but it certainly isn't enjoyable for employees. Combine affordable rates with amazing appeal by hosting your next corporate event at the Exotic Caye.
Retain your most talented staff members and reward those who work hard by treating them to a unique vacation in a beautiful destination. The days may include corporate meetings and trainings, but free time can be spent exploring the island and soaking up the sun in paradise.
Holding your next event at the Exotic Caye Beach Resort is the ultimate way to attract attendees and have a memorable occasion in one of the world's most beautiful destinations.