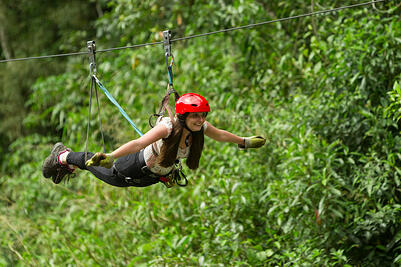 Belize is a beautiful and scenic destination, and many of its annual visitors come for the chance to relax on the beach or soak up the sun. While a few cocktails by the pool might be a fun way to spend a single evening, you may be one of those intrepid travelers who is searching for more than just relaxation.
If adventure is calling your name, these options provide adrenaline, excitement and unforgettable memories in Belize.
Try Out the Longest Zip Line in Central America
If you're in the mood for a serious rush, then trying out a guided tour to the longest zip line in all of Central America might be your answer. Found in the Mayflower Bocawina National Forest, this zip line stretches for more than 1.5 miles, and it boasts 12 different platforms along the way.
At each platform you can prepare for the next zip and then soar through the lush greenery above the trees for up to 30 seconds at a time. This is an amazing experience that will have you craving more.
Visit Ancient Mayan Ruins
Belize has a rich cultural heritage, which is evident through local folklore, language, cuisine and music. To get to the heart of the ancient culture, there is nothing better than visiting a Mayan ruin.
Many of the ruins are close to 2,000 years old, and there are pyramids, homes and religious structures that still stand to this day. Be sure to visit the impressive ruins of Xunantunich or Caracol, which is the biggest man-made structure in the entire country of Belize.
Explore One of the Largest Coral Reefs in the World
When you think of the world's largest coral reef, you might immediately picture the Great Barrier Reef of Australia. What might surprise you is that the second largest of the world's coral reefs can be found just off the coast of Belize.
There are over 180 miles of coral reef in the area, and you can spot everything from sharks to sting rays to shipwrecks. Another perk of this activity is that you can tailor it to your fitness level and desired adrenaline rush.
Whether you snorkel through the reef, try out scuba diving at night or just ride along in a glass-bottomed boat, this will be a truly unforgettable experience and the chance to get a glimpse of the fascinating underwater ecosystem.
Go On a Caving Adventure
While there are plenty of thrills to be had above ground, some of the biggest adventures in Belize are found in the Caves Branch Archaeological Reserve. You can spend your time rappelling down waterfalls into a pitch-black cave system, rock climbing or just floating on a tube with the refreshing water surrounding you.
This is a unique experience that you can't get anywhere else on the planet, but it is also one that definitely requires a local guide to ensure you are safe throughout the adventure.
Whether you want to rappel into a cave, soar above the trees on a zip line or anything in between, Belize is the capital of adventure in Central America.
Discover the amazing accommodations and amenities at Exotic Caye Beach Resort in Belize for a memorable vacation.