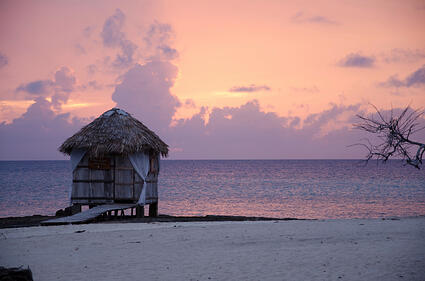 Belize is a small Central American gem that is still hovering in the "not so traveled" area of visited countries, especially when compared to it's neighboring countries like Mexico and Costa Rica.
When you come here, you can expect to see a cultural mixture of people and ethnicity, taste amazing food, and partake in activities from jungle exploring to frolicking on the sandy beaches, all here in this tiny country.
When visiting any country in the world it's great to have an idea of what to expect, and some tips to get yourself acquainted right away. So here are a few tips to help you start your journey to Belize.
Money Tips
For the ultimate way to get around without shelling out tons of dough, just do as the locals do, hitchhike. You're entire life you have been told not to talk to strangers and certainly not get in a car with them, but here, it's a common way to get around and it will surely be more budget friendly than a tour bus. It's a great way to meet the locals as well.
When hitchhiking is not an option, the public bus is your best best for a budget-friendly way of getting around. It's what the locals take, so it's a local price.
You can save money by being smart with your travel dates. Typically October to April is the most expensive time to visit Belize, so by planning your trip during the other months, you can substantially reward your wallet.
If you're the outdoorsy type, then why not go camping? Save on accommodation, get a different experience, and stay out in the beautiful nature that makes up this country. This is popular choice while on the islands and can be as cheap as $4 a night to pitch a tent.
Behavior Tip
Everyone can get hot headed every now and again, but if you're in Belize, or many other countries for that matter, getting all macho and blowing your top would be an unwise choice. Keep calm, talk in a nice manner, and you will be more likely to resolve everything. Overall the people are super friendly, so you hopefully won't run into this issue.
Time Tip
What's time? OK, it's not that bad, but you should know that things don't run as on time as maybe your home country does. Expect the buses to be a bit late, and your tour to begin later than you were told. Island life means things are even slower, so keep it in mind when you're heading to your slice of paradise. You might have 30 minutes less than you planned to sun those buns.
Dress Tip
This country is rather casual. There's no need for anything fancy, or anything too heavy. It's hot! Feel free to wear beach wear when at the coast or on the islands. Shorts, flip flops and tanks are fine. If you are wandering through the jungles, thought it's hot, you will want light colored and breathable pants and some hiking shoes. One thing to leave at home is all your flashy jewelry, not only is it an invitation for theft, you might lose or ruin it during your travels.
Tour Tips
Enjoy your time in Belize to the max with booking tours with licensed and reputable tour companies. There are some impostors. It's a requirement for them to be licensed. If they are not, you could be risking your time in the country which could end in a disappointing deal for you, or worse, a safety hazard.
Discover beautiful Exotic Caye Beach Resort and all the amenities you can imagine in this beautiful Latin American country where the weather is fine and the people are friendly and welcoming.
These are a few tips to help you make your Belize trip as wonderful and smooth as possible. Have you been to Belize? What tip would you add to this list?