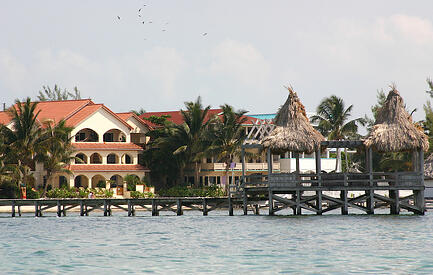 If you're lucky enough to be staying at the Exotic Caye Beach Resort on the island of Ambergris Caye, Belize, then you should absolutely carve out some time to explore the only true city on the island: San Pedro Town.
A mix of modern amenities and the rich local culture, the city is a fantastic place to spend an afternoon or even a few days. If you're not sure why San Pedro stands out, here are just six of the countless reasons that make it such an unforgettable spot.
1. Lots of Local Wildlife
San Pedro Town might be the only city on the island, but that doesn't mean you won't be able to spot local wildlife.
There are an abundance of birds and fish in the air and sea, but a highlight is ACES, or the American Crocodile Education Sanctuary, where you can learn about crocodiles and their natural habitats.
2. Historic Landmarks
While San Pedro town has plenty of cultural and historic attractions, arguably the best one of all is located just outside of the city center. The Marco Gonzales Maya Site lets you see ancient artifacts and get a better understanding of the Mayan Civilization that was so instrumental in shaping the local history.
3. Unbeatable Eateries
Be sure that you arrive in San Pedro Town hungry, because there is no shortage of amazing restaurants to try out. If you want a crash course in the local cuisine, then Caroline's Cooking is the place to enjoy jerk chicken, beans, rice and fried plantains.
Those in the mood for seafood might prefer the laid-back destination of Lick's Beachside Cafe.
4. Friendly Locals
One of the best parts about San Pedro Town is that you'll immediately feel welcome there. Locals are eager to practice their English, learn more about you and where you are from and share their island knowledge.
Whether you're in town for a beer by the beach or a few days of cultural exploration, it's hard not to make new friends with residents of San Pedro Town.
5. Outdoor Recreation Opportunities
Despite San Pedro being a more urban destination, it still offers all the outdoor recreation you would expect from a tropical island.
Some of the most popular pastimes for visitors include things like snorkeling, scuba diving, setting off on a deep-sea fishing expedition, walking along the sandy shoreline or even going on a guided tour of the nearby Shark Ray Alley, a place where you can safely feed and even swim with nurse sharks and sting rays.
6. Fantastic Shops and Boutiques
For souvenirs in Ambergris Caye, there is no better spot to start shopping than San Pedro Town. Emeralds and gold are popular jewelry items, and you'll also spot lots of art in the form of paintings and sculptures.
Of course, souvenirs like mugs, shirts and even furniture are also readily available. Don't forget to buy local fruits or flowers to enjoy while you're still on the island.
San Pedro Town on Ambergris Caye, Belize, is an unforgettable destination and a spot where you'll definitely want to spend some time on your island getaway.
Exotic Caye Beach Resort in Belize is a wonderful place to stay while you explore San Pedro and all the other sites and attractions in Belize. Explore your options for your next Caribbean vacation.