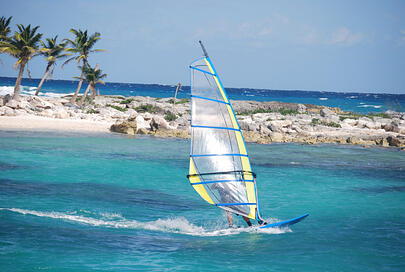 One look at the location of the Exotic Caye Beach Resort, and it is easy to see why so many travelers from around the world visit time and again. Nestled next to the water, offering beach access and situated on the charming island of Ambergris Caye, it is hard to imagine a better place to stay while on vacation in Belize.
However, the amenities at the Exotic Caye Beach Resort take your getaway to the next level, promising unforgettable times. The following five highlights are just a few of the best amenities at the Exotic Caye Beach Resort.
1. Onsite Dining
A vital element of any truly memorable getaway is fantastic cuisine. While visitors in Ambergris Caye should certainly venture off the resort to explore the local cuisine during their stay in Belize, they will also appreciate having access to delicious food right at the resort. Try a dinner at the Spice it Up eatery, kick back with a drink at Crazy Canuck's or enjoy a quick bite at the MELT Cafe, and do it all without having to leave the resort.
2. The San Pedro Fitness Club
Whether you want to unwind in the sun or work up a sweat, you can do it at the San Pedro Fitness Club. Boasting a 250,000 gallon pool, two illuminated tennis courts suitable for day or night games, a clubhouse, an air-conditioned gym, a volleyball court and even ping-pong tables, this is the perfect spot to relax, meet friends or enjoy a drink in the sun.
3. Onsite Pier and Marina
Part of the appeal of staying on an island is having the opportunity to easily access the ocean. Since the Exotic Caye offers a pier and marina onsite, you won't have to travel far to set off on an adventure. Boat tours depart right from the resort whether you are planning a day of deep-sea fishing or a romantic sunset sail around the island.
4. Watersports Right Outside Your Door
Take advantage of the incredible weather on Ambergris Caye by participating in some watersports right at the resort. At the Exotic Caye Beach Resort, you can borrow or rent everything from kayaks to jet skis to canoes, and larger items like sailboats and even windsurfing equipment can also be arranged.
Whether you have always wanted to try something new or you're an expert in the water, having everything available makes it easy to create new memories in the paradise that is Ambergris Caye, Belize.
5. Helpful Staff Who Arrange Tours
Finally, it would be impossible to forget about the helpful, kind staff at the Exotic Caye. Not only do they do everything possible to ensure your stay is a success, they can even help arrange tours off the island. Speak to an employee to book a jungle tour on the mainland, explore ancient Mayan ruins or even set off an overnight camping adventure.
All of these incredible amenities at the Exotic Caye Beach Resort make it a fantastic place to stay while you explore the island of Ambergris Caye in Belize. Contact us today for more information.