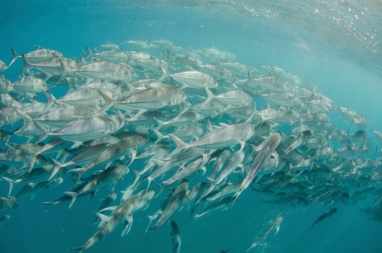 Whether you're an avid sports fisherman, or simply someone who loves the relaxation of casting out a lure while enjoying the crystal clear water surrounding you, Ambergris Caye in Belize has something for everyone.
However, it's important to understand not only what type of fishing opportunities the island provides, but also the regulations and licensing requirements necessary to follow local laws while fishing.
Types of Fishing
When visiting Ambergris Caye, you can choose to fish either from a boat or one of many places on the shoreline. While fishing from a boat requires renting a boat or hiring a fishing charter, you'll have a better chance of catching fish that prefer the deeper waters. Common fish include tarpon, marlin, tuna, wahoo, amberjacks, snapper and grouper.
However, if you don't feel like paying for a boat or charter, excellent fishing opportunities can be found from the shore as well. In fact, it's not uncommon to catch bone fish, barracudas and black or red snappers with the right lures and water conditions.
Getting a Fishing License
Fishing on Ambergris Caye Belize requires a sport license any time you fish from a boat, regardless of whether you're fishing for fun or sport. Sports licenses are not required for juniors or seniors over 65, and are also not required if you're just fishing from the shore.
Sport fishing licenses are available from the Coastal Zone Management Authority. Both day and week licenses can be purchased online through the CZMA website, and monthly and yearly licenses can be purchased directly from the organization.
Both Tres Pescados Fly Shop and El Pescador Lodge in the town of San Pedro also sell fishing licenses.
Local Fishing Regulations
While a location next to the second largest barrier reef system in the world has its fishing advantages, many of the most prized species of fish in the area have experienced dwindling numbers due to over-fishing. In order to protect various species of fish from extinction, Belize passed strict laws regulating what types of fish can be caught and kept, with the majority of fish now catch and release only.
These laws include the more popular targets, like tarpon, bonefish and permit fish. Before you go out on the water, review which fish have bans on them, as well as the closed seasons and catch and size limits for the fish you're looking to catch. Various marine protected areas also have additional restrictions on the use of long lines, nets and traps.
Regardless of whether you choose to charter a boat, or spend the day leisurely fishing off a local dock or shoreline, fishing on Ambergris Caye will provide ample opportunities for travelers of all types and ages. Even if you manage not to catch anything, you can still enjoy all the other sights and attractions this Belize island has to offer.
Summary: This article is an overview of fishing on Ambergris Caye, discussing licensing requirements and local regulations.