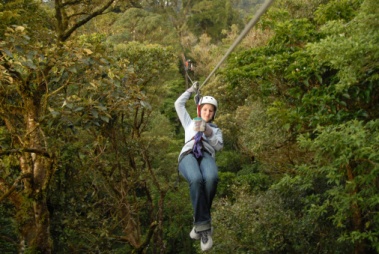 Belize holds some of the most awe-inspiring natural wonders in the world, from its expansive rainforests filled with Mayan Ruins, to its location near the second largest great barrier reef in the world. When staying on Ambergris Caye, you not only have the ability to access all that the Caye has to offer directly, but many tour companies provide transportation and guides to experience all that the mainland of Belize has to offer as well.
Explore the Rainforest Canopy
Much of the Belize mainland is covered in rainforests. While you can hire tours to explore the forest floor, why not book a tour of the canopy above? Zip-line tours continue to grow in popularity throughout the country, and are just a quick boat ride from the Ambergris Caye area. Zip-lines are based off the concept of repelling, but instead of a steep vertical drop, zip-lining provides a gentle horizontal drop. Attached safely to a steel cable by a harness, you will safely zip from platform to platform, with a birds-eye view of the forest floor below. Expect to see lots of birds, as well as the occasional howler monkey.
Cave Tubing at the Caves Branch Archaeological Reserve
If staying on the ground is more your style, consider a cave tubing adventure. One of the more popular locations for cave tubing in Belize is the Caves Branch Archaeological Reserve. Here you'll experience a look into the history of the Mayan culture, as these caves held religious significance for the Mayan people. With your tube and headlamp on, you'll experience incredible stalactites and sparkling quartz-covered cave walls, along with mild water rapids.
Explore the Mayan Ruins
Mainland tours and trips on Ambergris Caye are not complete without visiting various archaeological sites relating to the ancient Mayan civilization. While some sites are located on private land and can only be visited with permission, many are open to the public for exploration. Three sites in particular are a must-see when touring Belize, including Lamanai, Xunantunich and Altun Ha. While Lamanai and Altun Ha are accessible by boat from Ambergris Caye, Xunantunich typically require a flight to Belize City. However, this puts you in the perfect position to visit the Belize Zoo with its unique open-air animal habitats.
The Butterfly Jungle
If you prefer to stay on Ambergris Caye, you can still experience unique land tours, such as the butterfly jungle. Near the city of San Pedro, you can experience both the science and the beauty of the butterfly. See each stage of the butterfly's development, as well as learn how the butterfly plays an essential role in the ecosystem of Belize.
Whether you choose to tour the wonders of the mainland of Belize, or to explore the surrounding reef system through scuba diving or snorkeling, there's something for everyone when visiting Ambergris Caye and the rest of this culturally diverse country.