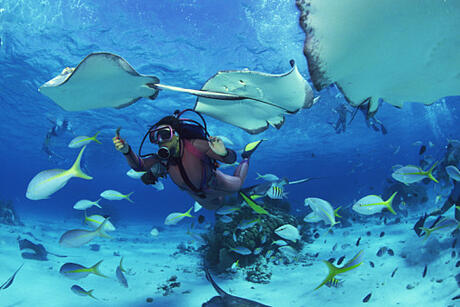 Belize is full of adventure, whether you're planning a vacation to Belize, or you're looking at possibly retiring to the area. With its tropical jungles and glass-clear waters, the country is full of opportunities to explore on your own, or hire an adventure guide to experience some of the most unique and adrenaline-filled experiences in the world.
Xunantunich and Cahal Pech
The country of Belize is well known by archaeologists as one of the best places to explore ancient Mayan culture and history. The country is filled with archaeological sites, with many open for public exploration.
Two of the most popular sites are Xunantunich and Cahal Pech, with several tour companies combining both sites on the same tour. While the weather and environment of Belize has worn down these once significant sites, visiting the remaining ruins still ranks as one of the most unique experiences you can have while in Belize.
Waterfall Cave Expeditions
When planning your adventure tours, Belize offers some of the best waterfall viewing opportunities in Central America. With the expansive system of caves, it's not uncommon for adventure tours to combine cave expeditions with waterfall adventures.
Several waterfalls allow you to jump into the cave pools below, or if less adventurous, belay down to the next section of the cave. Many cave tours also allow water tubing through certain sections of mild rapids.
Shark Ray Alley
With Belize in such close proximity to the second largest barrier reef system in the world, tourists come from all over the globe to both scuba dive and snorkel. Visit the island of Ambergris Caye for some of the best scuba diving opportunities, including Shark Ray Alley.
This unique section of reef is known as an area with a greater number of sightings for both large rays and sharks, including whale sharks, nurse sharks and the occasional hammerhead.
Bioluminescence Night Tour
Belize is one of the few areas in the world where you can experience the natural effect of Bioluminescence. Bioluminescence is a biochemical reaction that causes certain creatures to give off light, especially when disturbed.
Booking a night tour takes you on a jungle mangrove adventure to lagoons that support a type of bioluminescent algae that settles in the water during dry seasons. This algae creates a glowing blue light as the boat and other creatures agitate the water.
If you're lucky, you'll run into moon jellyfish that pick up the glow, as well as fish that agitate the water and look like comets streaking across the pitch dark around you.
Beyond just adrenaline-filled adventures, Belize offers plenty of opportunities to relax, such as fishing on the shoreline, relaxing on one of the many beaches, and exploring the culture and shopping in cities like San Pedro on Ambergris Caye, or San Ignacio in the Cayo District.