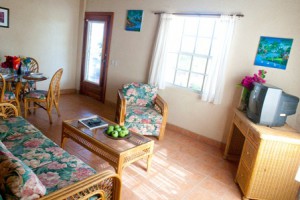 The Exotic Caye Beach Resort is a full service suite style resort on Ambergris Caye that gives you the feeling of living in a tropical paradise. All suites have the layout of a condo with full kitchens, living room, dining room, bedroom and bathroom.
The oceanfront units have balconies where you can watch the waves break over the reefs and the sun set over the water. The resort has 300 feet of beautiful and private beachfront and offers something for everyone, whether you like soaking up the sun or living the active life in a tropical setting.
Amenities at Exotic Caye Beach Resort
The Exotic Caye Beach Resort does not just offer island living in the form of its suites, but it also has a full range of amenities to take advantage of tennis courts, a full size swimming pool and an air conditioned gym are just some of the great amenities at the resort. However, it does not end there. Exotic Caye also has restaurants, bars and shopping. You can find everything you need to make your vacation great right at the resort, making Exotic Caye one of the unique hotels in Ambergris Caye.
Pull Up A Range of Fun Activities
Ambergris Caye is full of fun activities for vacationers. Scuba dive in one of the most beautiful underwater landscapes in the world, or hire a charter to chase one of the many species of game fish on the Caye. It does not end there. Rent a sailboat and take a relaxing tour of the waters, or even hire an instructor to learn the ropes of sailing in a tropical location. You can also rent boats for the purpose of fishing. There is a range of other adventurous activities available as well, such as windsurfing, kayaking and canoeing.
Explore Belize
There is also plenty to do in the surrounding area of Ambergris Caye and Belize. You might choose to visit the ancient Mayan ruins or go tubing in the Lamani Jungle cave systems. There are also plenty of opportunities to see wildlife, from boating out to see manatees, to bird watching, or simply visiting the Belize Zoo. Mainland tours are available and can be booked through the resort.
Helpful Resort Staff
One of the reasons the Exotic Caye is a top destination for travelers to the area is its helpful and knowledgeable staff. If you are a visitor from North America, you will feel right at home among many fellow travelers also from the region. The staff will help you get the most out of your stay at the resort with travel tips and by answering questions about the resort's many amenities.
Click here for more information on getting the most out of your stay