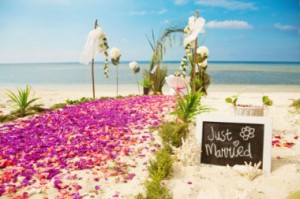 For many couples, there are few things more exciting than planning an upcoming wedding. From the delicious wedding cake to the gorgeous ball gown, picking out every element can be lots of fun. Few things are more important, however, than the location of the wedding itself. Choosing a destination like the tropical island of Ambergris Caye for a wedding can set the tone for an unforgettable event, and the following five reasons are just the tip of the iceberg when it comes to weddings in Belize.
1. Spectacular Weather Any Time of Year
One of the biggest reasons to celebrate your big day in a tropical destination like Belize is the weather. The nation, and the island of Ambergris Caye in particular, boasts exceptional, sunny and warm weather throughout the year. Whether you want to say "I do" in December or July, you can enjoy the warmth and beauty of this tropical location.
2. Amazing Accommodation Choices
Along with breathtaking scenery and the ideal climate, places like Ambergris Caye offer a variety of resorts that are bound to impress even well-traveled couples from around the world. Places like the Exotic Caye Beach Resort provide a range of beachfront accommodation choices for guests, who can choose from honeymoon suites all the way to three-bedroom family condos.
3. A Built-in Honeymoon Destination
Rather than leaving your wedding celebration early in order to head to the airport and fly to your honeymoon destination, choosing a tropical beach wedding venue makes it easy to extend the celebration. Ambergris Caye is a wonderful place to exchange marriage vows, but it is also a spectacular place to spend a honeymoon.
4. Easy Travel Options for Your Guests
Although traveling to Belize makes it a destination wedding, the journey itself is relatively short from many places in the United States. International flights to and from Belize City are readily available, and it is just a short flight, helicopter ride or romantic ferry to get to the island of Ambergris Caye. Guests will appreciate how simple and affordable it is to travel to your destination beach wedding, but you will still get all of the tropical beauty you want in an unforgettable locale.
5. Countless Locations for Ceremonies and Receptions
The final reason to think about getting married in a location like Ambergris Caye is the choice of beautiful locations for the ceremony and reception. From large banquet halls suitable for a memorable feast to a quiet garden overlooking the ocean, guests can have the exact wedding they have always dreamed of.
If you want to get married on Ambergris Caye, you aren't alone. Click here to find out more about planning the perfect wedding on this incredible island located just off the mainland of Belize.