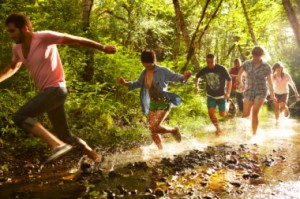 The pristine beaches and year-round pleasant temperatures offer Ambergris Caye visitors the perfect oasis for relaxation and rejuvenation.
However, if you've also chosen to vacation in Belize for some excitement and once-in-a-lifetime experiences, Belize adventure tours will deliver.
Whether you want to swim with sharks, go spelunking in massive cave systems or visit awe-inspiring sites where natives lived and worshiped centuries ago, adventurous souls will find a variety of enriching activities on the mainland near Ambergris Caye and even in the Caribbean Sea itself.
Take in the Rich History of the Lamanai Ruins
Easily reached from Ambergris Caye via boat and a short trek through the jungle, the commanding temples of the Lamanai Ruins showcase the Mayan heritage of Belize and are a must for any archaeology or history buff who comes to the region.
The site's Jaguar Temple dates back to 625 A.D., and the top of the High Temple can be traversed by a stone staircase, offering adventurers a spectacular view of the surrounding jungle and the majestic New River.
Ask your resort staff for a referral to the best deals and most knowledgeable guides, and get ready for your trek through history and Mayan culture at the Lamanai site.
Explore a Whole New World With Diving Tours
Have you always wanted to swim among whales or see baby sharks? The coast of Belize is the home of the second largest barrier reef system on Earth, and you can explore the world of hammerhead sharks, rays, whales and abundant plant life under the sea with adventure tours Belize.
Click here for more information on how to charter an affordable snorkeling or deep sea scuba diving trip the entire family will enjoy in the crystal-clear waters of Ambergris Caye.
Taming the Jungle on Your Belize Adventure Tour
The jungle awaits just west of Ambergris Caye on Belize's mainland. Visitors can either hop on a ferry or charted boat or take a quick plane ride to the shore and meet up with a knowledgeable guide for a choice of amazing jungle adventures.
Daring thrill-seekers may enjoy an exhilarating zip-line ride over the jungle's dense flora, and guided nature hikes leave from many cities and towns daily. Yet another extraordinary mainland escape is in Belize's vast system of underground caves.
As part of a day trip or an overnight excursion, you can ride an inner tube through a system of underground caverns or simply traverse the caves on foot.
For a vacation that's miles from ordinary, choose one of the many enriching, historical and exciting adventures off the beaten path in Belize. Your expedition of a lifetime is just a stone's throw from Ambergris Caye.