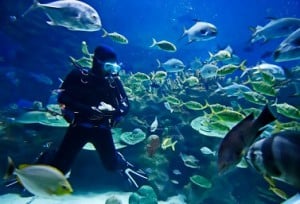 Diving on Ambergris Caye in the Hol Chan Marine Reserve is the highest rated island attraction according to TripAdvisor. This attraction also received TripAdvisor's "Certificate of Excellence" in 2013. There are many reasons for the popularity of this scuba diving experience.
About Hol Chan
This marine reserve is the first of its kind in Belize. Hol chan means "little channel" in Mayan. The so-called "little channel" consists of a "quebrada," a cut through the reef. It is about 75-feet wide and 30-feet deep, and it is found about four-miles southeast of San Pedro. The establishment of the reserve was a grass roots initiative brought about in part by historically uncontrolled fishing and diving in the area.
The initiative received international support from the Peace Corps and the New York Zoological Society (NYZS). The reserve is situated in the northern part of the Belize Barrier Reef. It now includes about three square miles of protected habitat. It is divided into four different zones:
Reef
Seagrass Beds
Mangroves
Shark Ray Alley
The Government of Belize first established the Marine Reserve on May 2, 1987. Initially, the reserve included the first three zones. Shark Ray Alley was officially made the fourth zone, "Zone D," on August 31, 1999. The final zone was added to offer protection to the southern sting rays and the nurse sharks that tend to congregate there.
Hol Chan Features
The prevailing tidal currents bring a rich array of nutrients to the waters of the Hol Chan, attracting many species to the area. With protected status, the reserve's fishery is recovering. Today, Hol Chan offers visitors an unbeatable Ambergris Caye underwater diving experience. The regeneration of the fishery adds that much more to the unique experiences possible here. Learn more about diving at Hol Chan.
An Option for Beginners
SNUBA is a type of diving that is very popular here because no diving certification is required. Of course, certified divers can explore the crystal clear waters around the Belize Barrier Reef down to depths of 100-feet or more. SNUBA diving is possible down to about 20-feet. This is sufficient to allow a thorough exploration of the reserve because depths typically range from five-feet to 30-feet. If you are new to diving, click here for some specifics on getting started on Ambergris Caye.
The Perfect Location
Because the reserve has enjoyed protected status for well over a decade, the assistance has made it one of the most ideal places for diving on Ambergris Caye. Its location is also ideal. The barrier reef gets as close as a mile from Ambergris Caye. There are numerous reasons why over 80-percent of those reviewing scuba diving at Hol Chan Marine Reserve on TripAdvisor have given it "five stars."