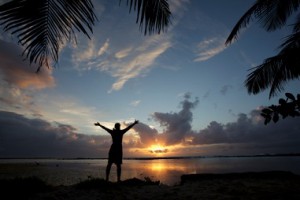 Whether you are spending just a few short days on the scenic island of Ambergris Caye or you are lucky enough to have more time in Belize, San Pedro should absolutely be one of the first stops on your travel itinerary. The destination is far from what you might think of as a city, but it is charming, vibrant and full of culture. As the only true urban area in an otherwise rural and scenic island, the town is a major spot for those seeking luxury accommodation, museums, recreation, art or the traditional cuisine of Belize. Use this guide to learn more about San Pedro's top attractions and restaurants in the area.
Fantastic Festivals and Cultural Events
While the dining on Ambergris Caye is phenomenal throughout the year, one of the biggest attractions on the calendar is San Pedro's world-class Lobster Fest. Starting off with an opening ceremony at El Divino Restaurant, this festival is a lobster-lover's dream come true. Taste fresh and truly enormous lobsters fresh from the ocean, or try exotic dishes that feature, of course, lobster. Another big annual festival is the Savor Food Festival, which takes place in February and gives attendees the chance to indulge in all types of international and local cuisine.
Cultural Attractions
The island of Ambergris Caye may be best known for its stunning beaches and welcoming resorts, but it also boasts some impressive cultural attractions, many of which are centered in or around the island's one main town. The Ambergris Museum and Cultural Center can allow you to learn more about the heritage of the island, and the Marco Gonzales Maya Site is an unforgettable destination where travelers can see ancient Mayan ruins up close. For a thrilling attraction that also serves as an educational experience and an Eco-friendly destination, the American Crocodile Education Sanctuary will be fun for children as well as their parents.
Outdoor Recreation
Although you can enjoy activities on the beach and in the water throughout the island of Ambergris Caye, San Pedro's size means that many of the bigger opportunities are accessible right from the town. If you are interested in a private boat charter, a sunset cruise or a trip out to the Hol Chan Marine Reserve, for example, many of the boats dock on the coastline close to town. Families with children, romantic couples and adventurers will all love the outdoor recreation opportunities in this area.
Wherever you happen to be staying on the island of Ambergris Caye, San Pedro's attractions make it a top destination. Click here to learn more about things to do in the area.