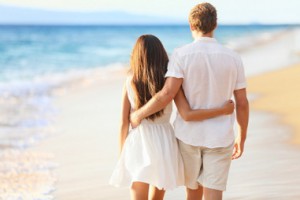 Your first vacation as a married couple is a significant milestone in your relationship. That's why everyone wants to have the honeymoon of their dreams. Selecting a honeymoon destination is the most important step. Even though the possibilities are endless you want to choose a destination that can satisfy both of your interests. That's one of the reasons that couples planning a romantic honeymoon should consider Ambergris Caye, Belize.
The Perfect Location
Ambergris Caye is the largest Belizean island and the most popular travel destination in the country. Although it's the most developed of the Belizean islands, Ambergris Caye has a laid back vibe.
There are many reasons Belize is becoming one of the best honeymoon destinations in the world. It's an English-speaking country and the U.S. dollar is accepted everywhere. There's no problem using US or Canadian appliances. The average temperature is 80 degrees. And with 25 miles of coast there's plenty of beach to enjoy.
Belize is a leading honeymoon spot that won't subject you to jet lag since it's a short two-hour flight from Miami or Houston. You'll find romance, beach and adventure in one exotic locale.
The island is home to the Belize Barrier Reef, the second largest in the world after Australia's Great Barrier Reef. Ambergris Caye has plenty to do for the bride and the groom including:
surfing
local cuisine at waterfront restaurants
private 18-hole golf courses
scuba, snorkeling, fishing and diving
American Crocodile Education Sanctuary tour
and the Marco Gonzalez Archeological Site Tour
Arrange to tour the historic ancient ruins on the mainland of Belize or visit the Belize Zoo located right outside of Belize City. The Belize Zoo is an interesting little zoo that houses animals of Belize in their natural habitats. See monkeys, Scarlet Macaws, jaguars, owls, tapirs and toucans up close.
The biggest benefit to honeymooning in Belize is it's the perfect locale for romance. With beautiful places to stay like Exotic Caye Beach Resort, Ambergris Caye isn't your typical honeymoon.
Love Is In the Air
There's no better place to celebrate your nuptials than Belize. The secluded white sand beaches offer pleasure and privacy. The warm weather and breathtaking scenery make it easy to start make memories that will last a lifetime. Most people who honeymoon in Belize discover that it's peaceful and relaxing.
After a day in the sun you can enjoy late night dancing under the stars or book a private sunset cruise and take in the breathtaking view of dusk on Ambergris Caye. Whatever you choose to spend your time doing, it's almost guaranteed that you'll have a honeymoon you'll never forget. Your vacation will be romantic with plenty of opportunities for adventure and new experiences.
If you would like more information about spending your honeymoon at The Exotic Caye Beach Resort, our friendly staff would be happy to help.