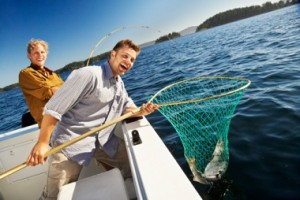 Off the coast of Belize lies the island of Ambergris Caye and deep, blue waters full of fish. Sport fishing on Ambergris Caye Belize offers something for everyone, from beginning anglers to experienced pros. Some of the fish found in Belize waters include bonefish, tarpon, snapper, grouper, mackerel, jack, barracuda and much more. Prized migratory fish that are available at certain times include marlin, sailfish, wahoo and tuna.
Explore the Belize Barrier Reef
Belize features the longest barrier reef located in the Western Hemisphere, with nearly 200 miles of that reef exclusive to the country's borders. The reef is perfect for snorkeling, diving and, of course, fishing. Reef fishing on Ambergris Caye Belize focuses on snapper and grouper and is a great way to combine a relaxing family outing with diving or snorkeling. Reef fishing tours are also available in the area with half- and full-day options. This is probably the best way to get the most out of your fishing experience.
Catch a Charter
Reef fishing is just one of the many exciting fishing opportunities around Belize. Charter fishing on Ambergris Caye Belize is another great way to maximize your fishing opportunities. Charter services abound in the area and give you a chance to go after the big prize. Deep-sea charter fishing includes marlin, sailfish, wahoo, mahi, shark and much more. Check out full- or half-day tours and a choice between large or small boats. Be advised that many boats are run locally and do not have restrooms on-board.
Don't Miss the Fly-Fishing
It is literally a paradise for fly-fishing on Ambergris Caye Belize. Fly-fishing boats go out regularly on the reef, and the big targets are usually bonefish and tarpon. Other smaller fish species include jacks, ladyfish and snooks. Some boats stock gear, but you are usually expected to bring your own. A 7- to 8-wt rod is usually appropriate as well as a saltwater reel. You will need 200 yards of 6-pound test line for bonefish and 25 for tarpon.
One More Option
Another fun fishing option on Ambergris Caye is night fishing. Very large fish tend to feed in the shallow areas of the reef at night, and you can hook some big prizes at this time. Boats typically go out around 4 p.m. and return around 8 p.m. The fishing is done while anchored, and nighttime on the water can be cold, so do not forget a jacket.
Ambergris Caye is practically bursting with amazing fishing opportunities. Be sure to take advantage of at least one during your stay.