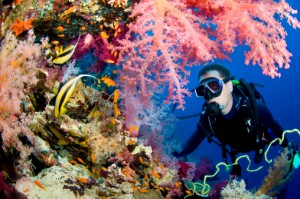 You know a vacation spot is relaxing when its primary form of land transportation is the golf cart. Quiet and leading to lots of fun, the humble golf cart could be a brand ambassador for Ambergris Caye, the largest island of the Central American country of Belize. Mainland tours and trips on Ambergris Caye contain more than one vacation's worth of paradise.
A Place to Do it All
Ambergris Caye is the hotspot in Belize for many kinds of tropical activity, as this article explores: boating, swimming, hiking, snorkeling, skydiving, even animal watching - it's home to the American Crocodile Education Sanctuary. Exploring the white sand beaches or the mangrove swamp at the center of the island are exhilarating choices. Click here to see what's available for whole families to enjoy.
To experience some of the culture of the island, try mainland tours and trips on Ambergris Caye such as visiting San Pedro Town, which is its largest designated town. There are many activities and things to see year-round in San Pedro and in the many small villages and resorts dotting the island. The town's annual festival is June 27, but Ambergris Caye exudes a festival atmosphere no matter what time of year it is.
An Ecosystem All its Own: The Belize Barrier Reef
For a truly once-in-a-lifetime experience, check out the Belize Barrier Reef and its surrounding beaches. The largest barrier reef in the Western Hemisphere, and the second-largest anywhere after Australia's Great Barrier Reef, the Belize Barrier Reef is home to a spectacular variety of fish, stingrays, and other exotic underwater life, all of which is just a snorkel and a pair of swim fins away for the intrepid explorer. Scuba lessons and gear are also available for visitors who want to get even more up close and personal with the denizens of Ambergris Caye's more shy reef residents.
There's More in Belize to Discover
If you decide to strike out for the mainland, Belize offers exciting, educational, and inspiring sights not far from Ambergris Caye. Mayan ruins can be explored at Lamanai, Altun Ha, and Xunantunich. The Belize Zoo protects amazing endangered animals. And there are even ancient pyramids and breathtaking caves to see as well. Once you've had your fill of the enchanting mainland of Belize, however, a quick boat ride will bring you back to the many wonders of Ambergris Caye you haven't encountered yet.
Natural oases of peace and tranquility or, if you prefer, resorts with all-night tropical parties, are to be found on mainland tours and trips on Ambergris Caye. There's no other place on earth that can match the island's combination of barrier reefs, mangroves, beaches, and nightlife all in such convenient proximity. Take a golf cart, kayak, or just walk or swim; Ambergris Caye is yours to experience your way.