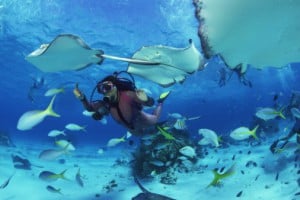 For some people, the perfect vacation involves little more than reclining by the pool, lounging on the beach and sipping cocktails at sunset. While that certainly sounds like a relaxing getaway, many other travelers are ready to experience a thrill or two while in places like Ambergris Caye, Belize. Thankfully, there is no shortage of incredible adventure tours Belize has to offer, and this guide lists some of the more popular options for travelers.
The Black Hole Drop
Thanks to an extensive cave system throughout Belize, there are a number of guided underground cave tours in the area. While some are relaxing, the Black Hole Drop is a seriously thrilling adventure. A long rope extends into a giant sinkhole filled with water, and you have to climb down the rope and then free fall. Although it is actually a very safe activity, the thrill of being in the dark and splashing into the refreshing water is something that you won't soon forget.
Scuba Diving in the Belize Great Barrier Reef
Snorkeling is often the go-to water pastime in Belize, but those who want a little more of an underwater adventure should seek out tours that head out to the Belize Great Barrier Reef. As the second-largest barrier reef in the world, this destination is full of coral and marine life that will excite you. For an extra thrill, try scuba diving at night to spot some of the nocturnal underwater residents.
Hike Through the Jungle on a Guided Tour
If you want to get away from the beach and see a different side of Belize, check out the jungles near the Guatemalan border. Local guides can lead you through dense, overgrown jungle paths and help you spot the native wildlife. You can even camp outdoors for a night if you are up for the adventure.
Ziplining Around Belize City
If you are staying on the island of Ambergris Caye, a quick flight or boat ride will take you to the capital of Belize City. There, you can set off on an adventure tour that includes ziplining over the coast and through the trees.
When it comes to adventure tours Belize has a lot to offer travelers in search of a thrill. Click here to learn more about heart-pumping ways to make the most of your Ambergris Caye vacation.