Ambergris Caye Restaurants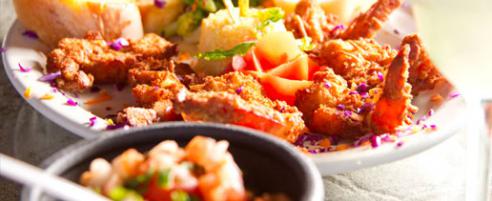 Exotic Caye Beach Resort Restaurants
Spice it Up
The Exotic Caye Beach Resort has several options for dining, but the newest is Spice It Up. This bar and restaurant boasts an extensive menu of appetizer and entrees with local flair.
Best-sellers include stuffed jalapeno peppers, lobster fritters, traditional seafood ceviche and Caribbean chicken fingers. If you are in the mood for something heartier, dinner items include quesadillas, hamburgers, fresh seafood dishes and local favorites like stew chicken with rice, beans, coleslaw and sweet fried plantains.
It's a great place to hang with new friends, and the prices are affordable. Try out drink specials like the local rum punch or the bucket of Belikin beers.
Spice It Up is conveniently located in the heart of San Pedro, found just above the Crazy Canucks Bar in the Exotic Caye Beach Resort.
MELT Cafe
Melt cafe, at Exotic Caye Beach Resort, specializes in Breakfast and Lunch. Breakfasts served until 2 pm daily and include: huevos rancheros " best on the island", Bagel melts, fruit / yogurt plates and a variety of eggs dishes.

MELT serves the finest imported South America gourmet coffee, wide selection of tea, fresh fruit SMOOTHIES and fresh squeezed juice daily.

Lunch is simply delicious, thick cut Fresh Baked breads and a huge variety of imported cheeses make for the signature Guerrilla Melts! Artisan grilled cheese sandwiches like the 'Chicken-ITZA', slow cooked savoury chicken, grilled onions, peppers and a fresh tomato salsa with secret Mayan spices all smothered in a melting 3 cheese blend. Yummy.

Many more Melt sandwiches to choose from, including wraps. Fresh to order salads, daily made chips and salsa and a large vegetarian selection.

Seaside outdoor covered seating makes for the perfect place to enjoy breakfast and lunch.
https://www.facebook.com/MeltCafeBelize. View Melt Menu >
Dining on Ambergris Caye
The island of Ambergris Caye is home to many restaurants. This list is by no means complete, but it will give you an idea of the variety and basic flavors available. Swing by the front desk for recommendations.
PepperOni's
If you're hungry for a pizza, PepperOni's is the place to get it. Conveniently located right outside the Exotic Caye Resort.
Caliente Mexican & Caribbean Cuisine
Open from 11am - 9:30 pm. Closed on Mondays
Located on the beach in the Spindrift Hotel and the other is located north of Captain Morgan's. Serving lunch and dinner daily. Add some Caliente when in San Pedro.
Pinocchio's Italian Restaurant
A delicious restaurant only 3 minutes walk from Exotic Caye Beach Resort. This family from Rome has created a traditional Italian menu that satisfies everyone's desires. Home made pasta and wood fire pizzas are the premise for this open-air gem. Head on down for a cold beer, glass of wine and a delicious meal. Truly Italian!
Hidden Treasure
For Reservations please call 226-4111
Discover great food in an enchanting setting. Featuring Latin American and Caribbean cuisine. Open for Lunch and Dinner.
El Divino's
Phone: 226- 3890
At Banana Beach, indoor (fully air-conditioned) and outdoor dining, serving breakfast, lunch and dinner. Featuring a Brazilian Rhodesia Grill and the Brick Pizza Oven. The Martini Lounge is a full service bar, with a variety of choice drinks and imported wines. The best Ceviche on the Island and Mondays are 2 for 1 Martini's.