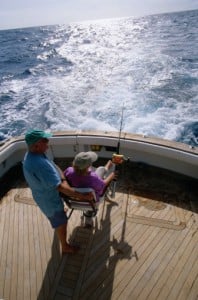 The island of Ambergris Caye is a tropical paradise nestled in the Caribbean Sea just off the mainland coast of Belize. Travelers and residents alike come to the island for a chance to enjoy warm weather, stunning scenery, affordable rates of living and some of the best beaches on the planet.
One of the most popular pastimes in the area is fishing. Whether you are a complete beginner just itching to learn the ropes or a seasoned pro who wants to head out on a deep-sea expedition, use these tips to make the most of fishing on Ambergris Caye, Belize.
Pick the Best Time of Year to Visit
Since Ambergris Caye boasts pretty spectacular weather throughout the year, there really is no bad time to visit. However, there are definitely seasonal changes that influence what kinds of fish you can catch and the best spots for fishing in the region. During the winter, or the months between November and February, reef fishing tends to be slightly better. During the extended summer, from May to October, heavy tarpon are the most popular catch.
Get a Fishing License
While there may be a few tourists who claim ignorance, the reality is that fishing while on Ambergris Caye does require a specific license. Thankfully, these are incredibly easy to obtain as well as very affordable.
Your hotel can help you secure a license online, or you can head to one of the bait shops in the town of San Pedro to buy a daily, weekly or annual license. Keep in mind that those under the age of 18 or those over the age of 65 are exempt from these licensing requirements.
Chartering a Fishing Boat on Ambergris Caye
There are countless opportunities for fishing throughout the island of Ambergris Caye. You can cast right from some of the many piers along the coast, wade out into the water or you can head to the famed salt flats.
However, there is no question that one of the most thrilling adventures is to charter a boat. The captain will be able to tell you the best spots to fish, give you tips and even offer you equipment. You'll encounter boats right on the shore advertising fishing trips, but your best bet is usually to ask your hotel for recommendations.
Take it One Step Further
If you are a longtime angler who wants to take fishing to the next level, try an overnight trip. You can head further out to sea into deeper waters, experience what it is like to fish in pitch black water and even dive at midnight to break up the event.
Fishing on Ambergris Caye, Belize can be an ordinary pastime as well as a thrilling, once-in-a-lifetime event. Click here to plan your next fishing adventure on Ambergris Caye.