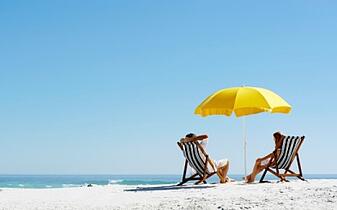 Many of the visitors who come to Ambergris Caye quickly fall in love with all that the island has to offer. From the perfect climate to the unparalleled scenic beauty to the local culture, Ambergris Caye might seem like a paradise.
One drawback might be that staying in an ordinary hotel won't offer the comforts and familiarity of home. A great alternative to a hotel room is an Ambergris Caye vacation rental. Whether you buy one yourself or rent one for your annual vacation, find out what makes Ambergris Caye rentals so appealing.
Private Dining and Cooking Facilities
One of the things that sets hotel rooms apart from vacation rentals and condo-style accommodation is the availability of dining and cooking space. Although going out to eat can be a nice way to spend an evening while on vacation, you might not want to spend money on a restaurant meal for every breakfast, lunch and dinner.
Having a small but fully equipped kitchen and dining area means that you can prepare a quick and affordable breakfast before sightseeing or whip up a feast using fresh ingredients from the farmer's market.
Resort Amenities Without the Expense
Some travelers think that in order to enjoy onsite facilities like kayak rentals, restaurants or fitness facilities, they have to pay extra and upgrade to a room in an expensive hotel. The reality, however, is completely different. Places like the Exotic Caye Beach Resort offer condo-style rentals for guests as well as amenities like a fitness center, volleyball courts, illuminated tennis courts and an outdoor pool, allowing you to enjoy the best of both worlds without blowing your travel budget.
Spacious Accommodations
If you want extra space in the form of a sitting area or perhaps a spare bedroom, you may end up going well over your expected travel costs. The alternative of vacation rentals, like those at the Exotic Caye, let you pick the right space that best meets your needs. That could be a one-bedroom condo with a kitchen or a three-bedroom condo that fits the entire extended family for a summer vacation.
All the Comforts of Home
Finally, an Ambergris Caye rental may be the best accommodation for a Belize vacation simply because it feels more comfortable and homely than a hotel room. You can spread out, relax and even return to the very same rental if you choose, which helps to make it feel more like your own special piece of tropical paradise.
The appeal of Ambergris Caye rentals goes beyond simple affordability. These rentals can also be a spacious alternative to a hotel room.