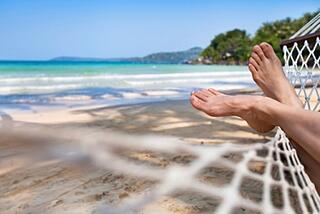 Planning a vacation can be a lot of fun, but it can also be stressful. It may be especially challenging if you are organizing a vacation for your whole family or if you are planning a trip to a destination that you've never visited before.
Thankfully, these tips will come in handy and ensure that you have a truly unforgettable Ambergris Caye vacation at the Exotic Caye Beach Resort in Belize.
Book Direct Flights Whenever Possible
To ensure that you have as much time as possible to spend relaxing on the beaches, exploring the town of San Pedro and getting active outdoors, you should aim to book direct flights to Belize City. Thankfully, air carriers like Delta are constantly expanding the number of direct flights they offer to Belize as well as the frequency of these flights. Today, you can hop on a flight from cities like Miami, Dallas, Houston, Chicago, Atlanta, Los Angeles and Charlotte.
Pick Accommodations in the Perfect Size
Another great tip to keep in mind is that not all hotel rooms are created equally. A major concern that some travelers have is that either they will end up in a room too small for their group or they will pay too much for a space they don't really need. Thankfully, upscale resorts like the Exotic Caye address that issue by offering a range of accommodations. Whether you need a standard one-bedroom with a kitchen, a honeymoon suite or a three-bedroom condo that fits the entire family, you can find it all on one resort for a price that is still affordable.
Save Money by Using Onsite Amenities and Facilities
A big expense on any vacation is planning for the various activities, tours and attractions that fill each day. By picking the right resort, however, you can fill each day with incredible activities that are entirely complimentary.
At the Exotic Caye Beach Resort, for example, you could walk right to the beach for a refreshing dip in the ocean, cool off at the onsite pool or work up a sweat with a fitness class at the San Pedro Fitness Club. Play tennis in the evenings, volleyball in the afternoon or ping pong at lunch.
Ask Hotel Staff for Local Tips and Recommendations
Finally, a great tip to keep in mind when planning the ultimate vacation to Ambergris Caye is that locals often have the best recommendations for places to shop and dine. When you check into your hotel, ask the concierge or another staff member for his or her best suggestions. This is a great way to get the inside scoop on the best of Ambergris Caye.
Planning a vacation to the island of Ambergris Caye, Belize, will be easier with these helpful tips in mind. Click here to learn more about travel tips to enhance your next getaway to Belize.