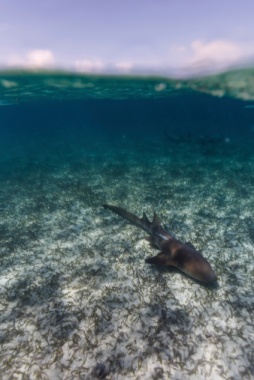 On the island of Ambergris Caye, there is no end to the incredible ways to spend your time. Whether your idea of fun is reclining by the pool, sipping cocktails with your feet in the sand or exploring ancient Mayan ruins, this wonderful island really does have it all.
If you are more of an adventure junkie always after the next thrill, nothing can compare to the experience of snorkeling through Shark Ray Alley. As the name suggests, this is not an adventure for the timid, but it can be a once-in-a-lifetime opportunity to take snorkeling on Ambergris Caye to a whole new level.
The History of the "Alley"
Well before there were hotels or a tourism industry on the island, Ambergris Caye relied heavily on fishing for both food and income. At the end of the day, the boats that came back to shore would head to the same spot and clean their catch. Over time, nurse sharks and rays realized that it was a consistent spot where they could enjoy a meal of fish guts. Today, the animals who flock to the area are friendly and eager for human attention, and they come back time and again thanks to the chum thrown out to them by boats that visit.
What You Expect from This Experience
The majority of visitors who snorkel in the alley arrive by boat rather than by swimming from the coast. This allows you to only get in the water when you feel confident and the environment is deemed safe by local experts. With your snorkel, mask and fins on, you can head into the water while your guide feeds the local underwater wildlife chum or bait. This ensures that the nurse sharks and rays are never hungry. These incredible animals may swim right up to you and even circle you. However, you should never reach out or touch them. After a while, your guide will let you know that it is time to climb back into the boat.
Planning Your Excursion to the Alley
The best way to snorkel through the alley and be guaranteed a view of the nurse sharks and rays is to join a guided tour. These tours typically leave several times each day, and they can be organized right from the beaches of Ambergris Caye or back at your hotel. Prices can be negotiated, especially if you have your own snorkeling equipment with you. Otherwise, be prepared to pay a little extra to rent fins, a mask or a snorkel. Many boat trips also include bottled water, soda or snacks for the excursion.
While there are plenty of spots to try snorkeling on Ambergris Caye, Belize, there is no question that Shark Ray Alley is one of the most thrilling underwater destinations in the area. Click to learn more about snorkeling and diving on the island.