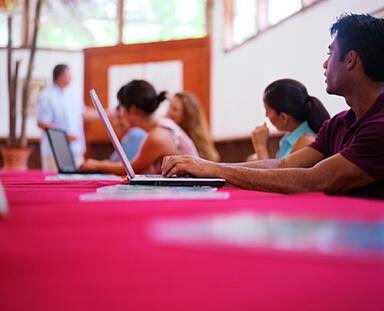 Conferences can be a fun, educational and inspiring event for all kinds of businesses and organizations. A conference can be an opportunity to meet with colleagues in different offices, go through team-building exercises, share information about new products or just reward a team of employees for a great year of work. While conferences can be held in hundreds of potential locations, the following are five reasons why conferences on Ambergris Caye might be a fantastic idea.
1. Proximity to the United States
One of the biggest reasons to hold a conference or convention on the island of Ambergris Caye is because it is still relatively close to the eastern coast of the United States. Many travelers are surprised to learn that direct flights leave many cities in America and land in Belize City just a couple of hours later. From Belize City, it is either a short plane ride, a helicopter ride or a quick ferry to get to the island of Ambergris Caye.
2. Incredible Affordability
Pricing a conference is always a challenge, particularly if the company or business is the one picking up the tab. Of course, for some conferences, individual attendees are required to pay their own way. Either way, Ambergris Caye is a great way to keep costs low for conferences of any kind. Everything from accommodation on the beach to dining out in local restaurants is cheaper than it might be back in the U.S.A.
3. Attractions for the Whole Family
Another fantastic advantage of holding a conference on Ambergris Caye is that the island offers plenty to do outside of the arranged event. Attendees may want to bring their entire family and lounge on the beach, explore the city of San Pedro or snorkel through the Hol Chan Marine Reserve.
4. Unbeatable Climate
Of course, the great weather on Ambergris Caye is a popular reason to hold a conference on the island. Whether you come in the winter, the summer or any other time of year, you can expect warm temperatures, a chance to hit the beach every single day and sunny skies for much of the time.
5. Necessary Infrastructure and Telecommunications
Nearly every conference needs to be in a location where safety is taken care of, roads are accessible and telecommunications systems are in place. On Ambergris Caye, all of these things are a guarantee, meaning that you can invite attendees without concern. Whether you need a large conference room, wireless Internet access for 500 people or video conferencing technology, it's all available on Ambergris Caye.
Conferences on Ambergris Caye can be a wonderful option for a business or organization that wants to create a memorable event for members or employees. Click here for tips and advice that can help you when planning a conference in Belize.