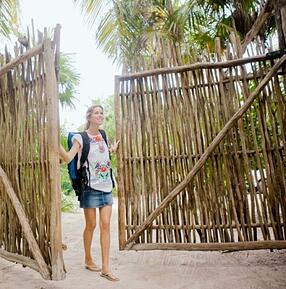 While on the beautiful and warm island of Ambergris Caye, there are plenty of the usual ways to pass time in a tropical location: swimming in the pool, relaxing on the beach and sipping cocktails with your eye on the horizon. These relaxing and calm ways to spend a day can be wonderful, but that's not all you can to do on Ambergris Caye. The following five suggestions are some of the wild and crazy things do to on Ambergris Caye.
1. Spot Crocodiles Up Close at ACES
One of the most incredible attractions on Ambergris Caye is ACES, or the American Crocodile Education Sanctuary. Owned by researchers, ACES is a conservation and education center where visitors can see crocodiles in their natural habitat. During the day, seeing crocodiles up close is a thrill, but it gets even more exciting at night on the weekly guided tours through the dark swamp.
2. Feed and Swim with Sharks
If crocodiles aren't quite scary enough for you, consider swimming in the water right alongside feeding sharks. In the aptly named Shark Ray Alley, just a short distance off the shoreline, fisherman have cleaned their catch for years, which attracted both rays and sharks to the area. Today, those brave enough to try it out can join a local expert and feed sharks chum while swimming right next to them in the water.
3. Go Tubing Through Cave Systems
If you head over to the mainland of Belize on a guided tour, you can see some of the incredible caving systems that exist throughout the country. In some of these caves, water runs underground, making the perfect spot for you to recline on an inner tube, wear a headlamp and get a unique perspective on the terrain.
4. Zip-line Through the Rainforest
Once you've seen the world from an underground cave, see the world from above by zip-lining. There are several locations throughout Belize, but nowhere is better than the Caves Branch National Park. Here, you'll take a short walk to the starting platform and then soar over the rainforest canopy, and you might even spot colorful birds or monkeys along the way.
5. Jet Ski off the Coast
For an unbeatable rush, you could rent a jet ski right from one of the beaches in San Pedro, Ambergris Caye. These jet skis can typically be rented by the half-hour or even for a full day, and they allow you to get a rush at top speeds while cruising along the coastline.
Ambergris Caye is an incredible destination full of wild and thrilling things to do, see and explore. Whatever your age or the amount of time you have to spend, you can have an unforgettable time on the island. Click here for more thrilling ideas to add to your itinerary.