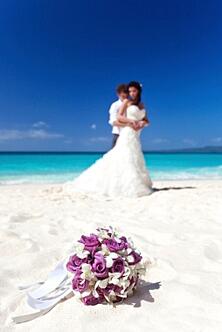 A wedding is the ultimate celebration of love, and couples around the world use the occasion as a chance to proclaim their devotion in front of friends and family. In recent years, destination weddings have become increasingly popular for couples looking for something unique.
If you are thinking about getting hitched in Belize on the island of Ambergris Caye, these are some important questions to ask yourself before you start planning one of those dream weddings in Belize.
How Long Will You Be in Belize?
This is perhaps the most important question to ask and have answered before picking Belize as the destination for your wedding celebration. In order for the marriage ceremony to be legal, couples will need to formally apply for a marriage license in Belize. This needs to be done a full three days before the ceremony.
Include a day after the wedding to recover from the festivities, and that means a wedding trip to Belize will be a minimum of five days. It is integral that both the bride and groom have this length of time in their schedule in order to have a legal ceremony as well as a fun and joyous celebration in paradise.
Do You Enjoy Outdoor Weddings?
Belize has countless facilities and venues that could accommodate an indoor wedding. However, most of the couples that come to Ambergris Caye for their wedding do so in order to enjoy the stunning scenery and the warm climate.
If you can imagine a backdrop for your ceremony that involves blue ocean waters, the sunset over the horizon or a stunning shoreline, then Ambergris Caye might be the right choice for you. There are also beautiful gardens and plenty of lush greenery that can be the ultimate background for a vow exchange.
Do You Want to Keep Your Wedding Budget Low?
One of the biggest reasons to plan a wedding in a destination like Belize is the affordability. The island paradise of Ambergris Caye may look like a million bucks, but it will be a lot less expensive than getting married in large cities in the United States.
Plus, destination weddings often limit the number of guests that can logistically attend, further reducing the price of the celebration as a whole.
Vacations for Guests
The guests who attend your destination wedding may be taking their annual leave from work or school to be a part of your big day, so it is important to make sure that your destination has plenty to offer. Ambergris Caye boasts beaches, water activities, incredible facilities at the Exotic Caye Beach Resort and wonderful dining and nightlife options. In the days before and after the wedding, your guests will have lots to do, see and explore.
Weddings in Belize can be an affordable and beautiful way to say "I do" to that special person in your life. Click here to learn more about whether you should get married on Ambergris Caye.