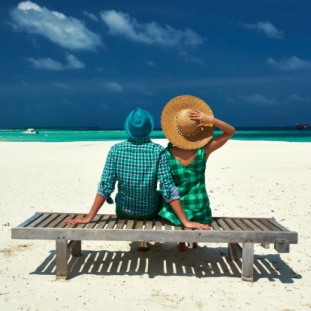 When the stress of planning your wedding is behind you and you are joined together to your mate for life, it's time to head to Belize for a honeymoon trip you will never forget.
Find out why reviewers use words like "fabulous, charming and fantastic" to describe their stay at the Exotic Caye Beach Resort on Ambergris Caye.
Extra Special Accommodations for Honeymooners
Even the regular rooms at the Exotic Caye Beach Resort are full of amenities such as cable TV and high-speed wireless Internet. Every room includes free access to the pool, a private boat dock and access to the Crazy Canucks Beach Bar.
For the best beachfront view, however, make sure to book the honeymoon suite. You will enjoy the convenience of having a Jacuzzi to soak in at the end of a busy, fun-filled day.
Special Off-Season Rates
There's nothing better than escaping to a warm climate when your home environment is wet, rainy or snowy. If your wedding is during the "off" tourist season, you can score a lower rate on your entire trip. If the wedding date has not been set yet, you may even want to purposely schedule it off-season. You will enjoy a less crowded beach at a lower price so that you and your honey can fully enjoy the seclusion that many honeymooners hope for.
Activities You Can Both Enjoy
Sometimes a couple has difficulty deciding which activities to enjoy when visiting a new locale. At the Exotic Caye Beach Resort, this should not be a problem because there are a wide variety of activities offered. At the resort itself, try kayaking or wind-surfing.
Book a cruise with your loved one, or go sailing for a romantic interlude for two. Travel to the mainland for horseback riding and explore the ancient Mayan ruins. Whatever you and your spouse are interested in, you will be sure to find fun activities to accommodate you.
Try Local Produce
There are several high-quality restaurants to choose from on Ambergris Caye. Whether your palate prefers simple dishes or more elegant meals, you can find an eatery to suit you. However, while you are visiting Belize, you should also try some of the local produce. Every Wednesday, a boat arrives from the mainland with fresh Caribbean fruits and vegetables. This may be your only chance to try super fresh exotic fruits that are difficult to find at home.
From a special honeymoon suite to eating fresh papaya together, you can enjoy an unforgettable honeymoon at the Exotic Caye Beach Resort. For more information on special honeymoon and anniversary packages offered by the resort, click here.