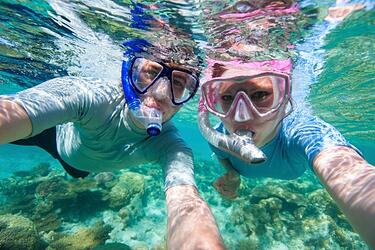 Just off the coast of mainland Belize is an island called Ambergris Caye. While it is known for affordable vacations, beautiful beaches and incredible cuisine, there is no way that you can forget the amazing underwater adventures that the island has to offer.
Snorkeling on Ambergris Caye is one of the most popular pastimes, and it is something that anyone who knows how to swim can try out while visiting the island.
You can easily stay close to the shore and admire the brightly colored fish and stunning coral reefs, but heading to the famous Shark Ray Alley can be a phenomenal way to create thrilling memories in Belize.
What to Expect in Shark Ray Alley
With such an intimidating name, some visitors are concerned that the thrill of swimming among such majestic creatures also carries with it some big risks. Thankfully, however, Shark Ray Alley is a relatively safe place to snorkel, particularly if you are accompanied by a local guide. Once you are there, you can snorkel right alongside beautiful manta rays and even nurse sharks, both of which can be surprisingly gentle underwater creatures.
The History of Shark Ray Alley
While Shark Ray Alley is something of a tourist attraction today, that certainly wasn't always the case. Well before there were resorts on the island, the alley was simply the spot where local fisherman came in at the end of the day to clean their catch. As the chum filled the water, it began to earn a reputation as a spot where both nurse sharks and manta rays would gather to feed.
Guides and visitors capitalize on that fact today by throwing chum in the water to attract these sea creatures and then snorkeling right next to them in the safe and unforgettable environment.
Additional Spots to Try Snorkeling Nearby
Shark Ray Alley might be the most appealing spot to try snorkeling, but it is far from the only place on Ambergris Caye where you can spot incredible underwater landscapes. Belize is home to the second-largest barrier reef in the world, only coming in behind Australia's Great Barrier Reef, so there are hundreds of amazing spots where you can dive or snorkel among breathtaking beauty. The Hol Chan Marine Preserve, just a few miles away from the coast, is the ideal place to snorkel on Ambergris Caye.
What You'll Need to Snorkel on Ambergris Caye
To snorkel on Ambergris Caye, you will need to have a snorkel, a mask, a bathing suit, swimming skills and fins. You can bring these items with you from home, but they are also readily available for rent or sale. You might also want to join a guided tour for a chance to snorkel further out at sea.
Snorkeling on the island of Ambergris Caye is an amazing experience. Click here to learn more about the thrill of Shark Ray Alley