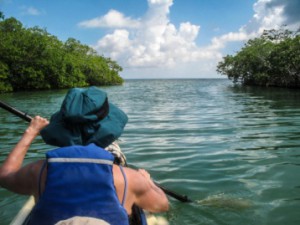 A trip to Ambergris Caye, Belize, is a getaway to paradise. If you are looking for warm, tropical breezes, crystal clear water and fun in the sun, you have chosen the perfect vacation destination. If you're looking for adventure on the island, you can find adventure tours to satisfy the thrill-seeker in you.
The beautiful beaches, fabulous resorts, historical ruins, walking tours, deep sea fishing, snorkeling and scuba diving are only a few of the delightful pleasures you'll enjoy on the island of Belize.
Exploring Belize's Waterways
The Sibun River offers a great kayaking experience. Check out the beauty of the surrounding mountainous landscape while rolling on the river. Guided tours are available for beginners and also for the experienced kayaker. If tubing is your thing, you can book a cave tubing tour through the many caves located on Ambergris Caye.
Start In the Jungle
The lush jungles surrounding Exotic Caye Beach Resort are the explorer's dream. Walk through the Mayan ruins and feast your eyes on the remains of this ancient civilization. The temples and stairs leading to them will astound and amaze you. You can zip-line over the jungle corridor and be exhilarated as you fly through the air with the greatest of ease. For those who wish to experience the captivating culture of Belize, a walk through Belize City may be just what you're looking for.
Snorkeling and Scuba Diving
The world's second-largest barrier reef runs parallel to the coast of Belize, making it one of the best snorkeling and diving destinations in the Caribbean. Shark Ray Alley will delight you as it is home to hundreds of sting rays and nurse sharks. If you are staying at the Exotic Caye Beach Resort, the friendly resort staff will be happy to assist you in booking the snorkeling or scuba diving tour that will meet your expectations. The aqua blue waters are filled with such a beautiful array of colorful fish that you'll think you are starring in a Jacques Cousteau documentary. You may want to book a deep sea fishing expedition or a sunset sailboat cruise for you and your sweetheart.
With so much to do, what are you waiting for? Exciting Belize tours are waiting for you.