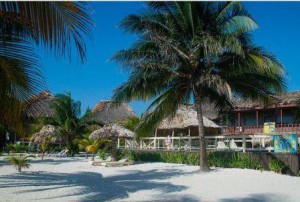 Ambergris Caye Belize is the largest island off the shore of the Caribbean nation of Belize. Located within a day's travel of many major U.S. cities, it offers the kind of unspoiled Caribbean vacation that many think has vanished from the planet.
Its walkable town center, San Pedro, its miles of sparkling sands and the spectacular barrier reef off its eastern shore are just the beginning of a delightful vacation.
Pick Your Ambergris Caye Adventure
At the Exotic Caye Beach Resort in San Pedro, the Adventure Concierge Service can help plan any adventure you have in mind. Sailing, parasailing, zip lining and reef diving are just a few of the opportunities to explore.
The 25-mile Belize Barrier reef that runs just a half-mile off the island's eastern shore is the largest coral reef in the western hemisphere and exceeded worldwide only by the Great Barrier reef of Australia. Top spots for scuba diving and snorkeling include the Hol Chan Marine Reserve in San Pedro and the Blue Hole, a 400-feet deep circle of limestone dripping with stalactites and teeming with elkhorn coral, angelfish and cleaner shrimp. Visitors to Shark Ray Alley in the Hol Chan preserve can see, swim among and sometimes even touch rays and nurse sharks.
Enjoy Nightlife and the Arts
Nightlife in San Pedro includes bars with live music performed by local musicians while the Gallery of San Pedro offers the largest collection of Belize-made art for purchase, from paintings to masks. For more sophisticated entertainment, pop over to Belize City for a film festivals, theater, musical performances and art events. Water ferries and air taxis all make for a quick and easy trip from the island to the mainland.
Fulfill Any Caribbean Vacation Dream on Ambergris Caye
Every kind of Caribbean vacation awaits the traveler in or near Ambergris Caye. Hike through a rainforest; marvel at waterfalls; explore limestone caves. Relax and restore in yoga classes or just stretch out on the sparkling beach sands. Try cave tubing or zip lining. Rent a boat for offshore fishing or just drop a line off a pier. Go exploring underwater to see brightly colored fish and the living reef, or head inland for views of crocodiles, monkeys and maybe even jaguars.
Whatever Caribbean vacation you imagine, you can find it at Ambergris Caye.