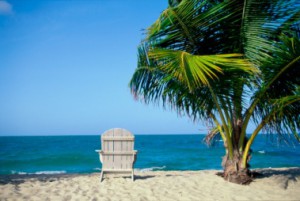 One of the many reasons that travelers from around the world choose Ambergris Caye as their destination is because of the affordable cost of living on the island. Like much of Belize, everything from accommodation to dining is cheaper than many comparable options in the United States, which means that enjoying an international tropical getaway can actually fit into your budget.
Along with affordable accommodation choices on the island and great local eateries, you will want to fill your days with low-cost and free activities. Here are some of the many free things to do on Ambergris Caye that won't eat away at your budget.
Kick Back on the Beach
If you just want to relax, escape from the hustle and bustle of everyday life and enjoy the breathtaking scenery on Ambergris Caye, there is nowhere better than one of the many beaches on the island. Nearly every hotel and resort boasts its own exclusive section of beachfront property where you can set down a towel or a lounge chair and recline in the sun.
Head for the shade of a palm tree if you would prefer, and bring along your favorite book from home to get caught up. Kids will love the opportunities to play in the sand, splash in the clear water and build castles with buckets and spades from home or from the many affordable convenience stores close to the shore.
Take Advantage of Resort Amenities
Even budget travelers can find affordable, welcoming and comfortable accommodation on Ambergris Caye. These resorts often include world-class amenities that you can enjoy at no extra cost, and they can be a delightful alternative to the beach if you want a change of pace.
The Exotic Caye Beach Resort, for example, boasts the San Pedro Fitness Club, which offers guests complimentary access to tennis courts, sports equipment, a fitness center and an outdoor pool.
Go Snorkeling from the Shoreline
Those who already have their own snorkeling gear with them can head right into the water from dozens of shorelines around the island. Snorkelers can spot coral reefs bursting with color and a vibrant marine life all just 50 feet from the coast.
Explore the Town of San Pedro
Finally, don't forget about the chance to explore the town of San Pedro on foot. From the coast and the marina to the markets on Main Street, it is easy to spend the day soaking up the scenery and historic architecture in Ambergris Caye's main town.
Tropical getaways don't have to be expensive. Click here for more ways to enjoy an affordable trip to Ambergris Caye, Belize.