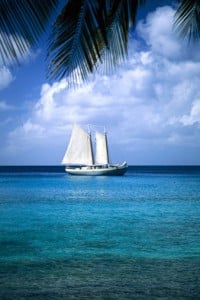 Whether you're visiting the country for your honeymoon or the vacation of a lifetime, you'll find that your calendar will easily be filled with the abundance of activities available on the waters of Ambergris Caye. Belize's tranquil coastal waters are teeming with unique life and unparalleled beauty, and one of the best ways to experience this locale is via boat. When you rent a boat on Ambergris Caye, you're opening up a world of possibilities.
Water Expeditions Await Just off the Port Bow
Enjoy world-class snorkeling in the famous Shark Ray Alley. Ask your hotel concierge for boating services that are available to ferry you to the Alley, a popular spot for snorkeling and scuba diving because of the abundance of sharks and rays that call the area home. With just a leap off the side of your Ambergris Caye rented boat, you may be able to pet the world's biggest animal, a whale shark. Don't worry about getting bitten; whale sharks feed via filtration, and they prefer to dine on krill rather than mammals. Younger whale sharks have even been reported to play with divers!
An Abundance of Wildlife
The world's second-longest reef is also in Belize, just a stone's throw from Ambergris Caye. The crowning jewel of the Caye, Bacalar Chico National Park and Marine Reserve, part of the Mesoamerican Barrier Reef System, can only be reached by boat in order to keep the area as unspoiled as possible. The 40-square-mile park boasts an amazing amount of biodiversity, and vacationers can dive and snorkel here as well as walk along nature trails and view wildlife, including large cats and endangered species such as the white-lipped peccary, a breed of wild pig. You may even stumble across an intimate breeding ground for green sea turtles.
A Fisherman's Paradise
The extensive numbers of fish and diversity of species makes Ambergris Caye a spectacular fishing spot for fly fishing and reef fishing aficionados alike. Deep-sea fishermen have many options to charter a boat and take to deeper waters where mahi, shark, marlin, barracuda and tarpon are abundant. Click here to learn more about the fishing adventures that await when you charter a vessel on Ambergris Caye for a full-day or half-day excursion.
Like No Other Place on Earth
The sperm whales that contributed to the Caye's name are today an endangered species, and boat rental is your ticket for viewing and photographing these amazing animals. Sailboats frequently venture through the Caye's waters and can be chartered daily for whale watching.
There's nowhere you can visit that offers the beauty and diversity that's found on Ambergris Caye, and taking to these coastal waters is an unparalleled experience. With the simple act of renting a boat, you have the opportunity to swim with sharks, catch some exotic fish and watch the sun rise over the Caribbean in a fountain of color.