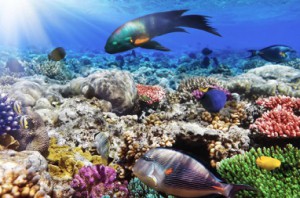 Just a short boat ride from Exotic Caye Beach Resort, Bacalar Chico National Park and Marine Preserve offers over 40 square miles of incredible natural beauty encompassing land, reef and sea. The narrow channel itself, separating Ambergris Caye from the Yucatan Peninsula, was cut by the Maya fifteen hundred years ago to facilitate coastal trading, and the ruins of their settlement is the site of the park's visitor center. Occupying the northern end of Ambergris Caye and its surrounding waters, this stunning UNESCO National Heritage site is accessible only by boat, and relative isolation lends a wild, remote appeal to this protected area.
Wildlife and Habitats
With its incredible diversity of wildlife and habitats, Bacalar Chico is a fascinating part of any Ambergris Caye vacation. The parklands encompass various tropical rainforests, swamps and grasslands, while maritime habitats range from sprawling mangroves and sea grass beds to patch and barrier reef.
The reef is a part of the Mesoamerican Barrier Reef System, which is the second largest barrier reef in the world. Encounter amazing wildlife from jaguars and crocodiles to nesting loggerhead and green sea turtles along the eighteen kilometer nature trail. Home to nearly 200 species of birds and all five of Belize's wildcat species, the preserve is dedicated to protecting the island's wildlife and habitats.
Exploring Bacalar Chico
This wild, remote area is a favorite with adventurous vacationers. Jungle trekking, snorkeling, diving and exploring Mayan ruins are among the popular activities in the park, and many community service opportunities are available there. Visitor centers and ranger stations provide orientation and a wealth of information on fishing and marine activities. Popular nearby snorkel stops include Barracuda Reef and Rocky Point channel, while the sandy beach at Robles Point is perfect for a barbecue lunch. Mangrove lagoons cover the eastern side of the island, creating a perfect environment for coastal birds and turtles.
How to Get There
Because Bacalar Chico is accessible only by boat, check with the staff at Exotic Caye Beach Resort for the best local tour areas that run trips to the preserve. Generally, tours are a half or full-day and may include a mix of bird and wildlife watching, snorkeling and explorations of the ruins of Chac Balam, a significant Mayan trading center. Stops along the way from San Pedro may include "Bird Island," Cayo Iguana or stops for snorkeling among the park's particularly colorful coral. When the waters are calm, boats head into Rocky Point, one of the only places in the world where reef formations meet land.
Diving and Snorkeling at Bacalar Chico
From the air, the Belize Barrier Reef appears as a nearly unbroken line of white surf with the water inside the reef clear and shallow that's perfect for snorkeling and diving adventures. Because Bacalar Chico is accessible only by boat, the reef in this area has suffered less damage from humans. Diving, snorkeling and fishing is best off Rocky Point, and abundant marine life includes sponges, sting rays, manatees, grouper and barracuda as well as brilliantly colored parrot fish, angel fish and butterfly fish.
Take a day or an afternoon of your Ambergris Caye holiday to explore the wild side of Belize. Whether you want to swim among brilliant tropical fish, hike through the jungle or just sunbathe in a secluded cove, Bacalar Chico offers a unique escape among some of the island's most incredible natural wonders.