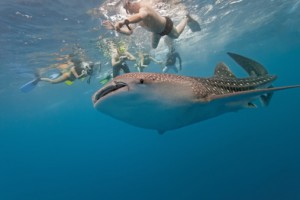 It is certainly no secret that water-based activities are a highlight of any getaway to Ambergris Caye, but some travelers are ready to push these experiences to the next level. If you love swimming, imagine swimming alongside sharks.
If you enjoy snorkeling and seeing the underwater environment, picture your swimming mask allowing you to see stingrays in their natural habitats. In Shark Ray Alley, a well-known destination on the island of Ambergris Caye, you can experience all of these thrilling sensations and so much more.
Shark Ray Alley's History
Although sharks and stingrays can be found at sea around Ambergris Caye and much of the coast of Belize, there is no question that the highest concentration of sharks and stingrays is in this stretch just a short boat ride from the coast of Ambergris Caye. This came about quite naturally as local fishermen used to clean their fish in the area.
Over time, more and more sharks and stingrays were drawn to the smell and taste of blood and fish in the water, and the area became known by its present moniker. Today, many local boat tours capitalize on the wildlife in the water and offer tours so that visitors can see these majestic creatures up close.
How it Works
While it may theoretically be possible to swim out to this alley along the coast and spot sharks on your own, it is almost always better to join a local tour group or have a chartered boat take you. Local guides who know the animals, their behavior and the area can make the process safer and more enjoyable. They throw chum into the water to attract rays as well as nurse sharks, and you can swim at a safe distance from the animals or even get close and touch them.
Find the Right Boat Tour
Since there are a number of boat tours offering trips to this incredible destination on Ambergris Caye, you may have a hard time narrowing down your options. One great tip is to look for charters or boat tours that depart close to your accommodation on the island. You can also ask hotel or resort staff directly for recommendations, and places like the Exotic Caye Beach Resort can suggest trusted tours in the area.
More Than Just Snorkeling
Although snorkeling is the simplest option for exploring Shark Ray Alley's underwater world, that is not the only choice for travelers. You can swim without a mask or even try scuba diving if you are looking for something new.
Snorkeling on Ambergris Caye is always fun, but adding in sharks takes it to a whole new level. Click here for more island activities.