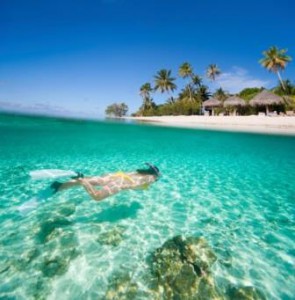 Whether you are a serious swimmer or someone just experiencing the vastness of the ocean for the first time, snorkeling can be an incredible opportunity to explore the amazing ecosystem found just below the surface of the water. Children and adults alike can go snorkeling on Ambergris Caye, and the warm climate of this tropical island allows the pastime to be enjoyed throughout the year.
Use this as your guide to picking the right place to snorkel, getting the equipment you need and enjoying the island as much as possible.
What Do You Need to Go Snorkeling?
Although swimming can be done with absolutely no equipment at all, snorkeling will require a few key pieces. As the name of the pastime suggests, a snorkel is a priority, and a mask will also allow you to see clearly underwater. Beyond that, you will just need a comfortable bathing suit and flippers, which are optional but can help you maneuver quickly in the water.
Where Are The Best Places to Go Snorkeling on the Island?
Although going snorkeling just off the coast of Belize can be a great way to pass the time, there are some destinations worth traveling for. Shark Ray Alley is one of the most popular, but it is best reserved for those with an adventurous spirit. This destination allows you to swim right alongside wild sharks and even sting rays! Hol Chan Marine Reserve is another fabulous place to see some beautiful underwater life just away from the coast.
Are Boat Tours Useful For Snorkelers?
If you have been snorkeling from the beach and you are ready to take it to the next level, then joining a boat tour or chartering a private boat is a great option. You can head straight to the one of the top destinations mentioned above, or you can just head out to sea and enjoy snorkeling away from the crowds.
Who Will Enjoy Snorkeling?
If you can swim, you can snorkel. You won't need any training, and the basics can be mastered in a matter of minutes. Children and adults alike will love snorkeling in this tropical destination.
Snorkeling in the beautiful island of Ambergris Caye is a wonderful way to enjoy the beauty of the island. Click here for more helpful tips.