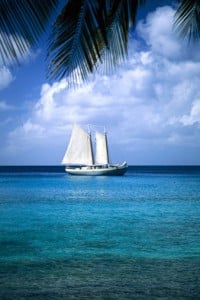 Many of the travelers who head to Ambergris Caye for their next vacation will have plenty to do onshore. From refreshing swimming pools to charming local cafes, you will have countless cultural, historic, scenic and culinary delights to explore on the island. However, hitting the open sea can be a slightly different and completely memorable way to enjoy Ambergris Caye, and it can be the perfect fit for all types of travelers of all ages. Here are just five of the many reasons to rent a boat on Ambergris Caye.
1.Snorkeling or Diving Out at Sea
There are plenty of places where you can take your mask and snorkel and admire the underwater life right from the coast, but there is no question that the best locations are further out at sea. Renting a boat from the marina or joining a group charter can take you to thriving marine destinations like the Hol Chan Marine Reserve.
2.Get a New Perspective on the Island
If you are a serious photographer or just someone who admires beautiful scenery, a boat tour can be a delightful way to get a new perspective on the island of Ambergris Caye. Photos from the water will showcase the natural coastal scenery in a stunning way.
3.Try Sailing For the First Time
A fun activity to try while on Ambergris Caye is sailing. Children can take group lessons, and adults can enjoy private instruction or help crew a boat for a day.
4.Go Deep-Sea Fishing
If the smaller fish along the coast aren't thrilling enough for the angler in you, consider deep-sea fishing. If you rent a boat on Ambergris Caye, you can head further out to sea and try catching the larger game fish for which Belize is well-known among world-class fishermen.
5.Make Romantic Memories
If you happen to be on Ambergris Caye for a honeymoon, an anniversary celebration or a romantic trip of any kind, few things could be more special than a sunset cruise. These can be arranged with your accommodation's concierge.
These are just five of the countless ways that renting a boat on Ambergris Caye can improve your already great vacation in Belize. Click here to find out more about renting boats on Ambergris Caye