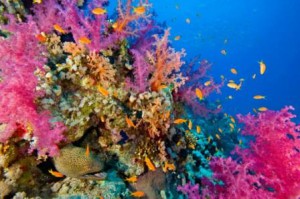 Ambergris Caye travel appeals to the eco-tourist, the scuba diver and the explorer of cultures. Of course, those that can't get enough of the golden-hued sunsets framed by coconut palms will be happy here as well.
Ambergris Caye is the largest of approximately 200 cayes, or islands, off the coast of Belize. The island's proximity to the Belize Barrier Reef makes it a most popular destination for Belize visitors. Exotic Caye Beach Resort is a place from which to set out to explore all that the island offers.
The Town Of San Pedro
San Pedro is the one and only village on Ambergris Caye. Visitors can access any medical or other services that they might require here. It is still a town that features hardened white sand for most of its streets. Colorful flowers in lushly landscaped yards accent the colorful dwellings in which many of San Pedro's residents reside.
For a long time, San Pedro was at the heart of the maritime trade in the area. Coconuts, chicle, and fish moved out of the port in great quantities. Today, eco-tourism, the dive and scuba trade, and resort services have helped to further grow the economy.
The Barrier Reef
Divers and snorkelers revel in the sights afforded along the coral reefs that run along the 25-mile length of the island just a half-mile offshore. San Pedro is indisputably the water sports and diving capital of Central America. Walk the streets or sit in the cafes, and you'll likely hear references to diving hotspots like Shark Ray Alley, Lighthouse Reef, Mexico Rocks, Hol Chan Marine Reserve and the Great Blue Hole.
Those who wish to remain above the surface of the Caribbean can choose activities like para-sailing, fishing or sailing. The saltwater flats between the island and the coral reef provide some world-class fishing opportunities. There are many reasons for Ambergris Caye travel plans.
Mainland Adventures
Although the adventures across the island will never end for most, tours to the mainland are easily arranged as well. Just contact the staff at the Exotic Caye Beach Resort; they can tell you more about how to visit the national parks, Mayan ruins and amazing waterfalls.
Friendly Hospitality
Although the barrier reef, the sunsets and the Mayan ruins are sure to fulfill the intrepid traveler to Ambergris Caye, its the people that one meets along the way that are sure to add to a treasure trove of memories. Ambergris Caye can introduce those that are interested to at least 10 varied cultures, including the Garifuna, East Indian, Mestizo, Creole, Mennonites and Maya. The relaxed hospitality freely offered will likely find you concluding your journey more carefree than before.