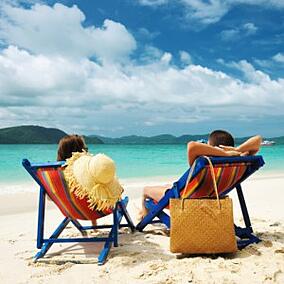 Whether you are celebrating your very first anniversary with your spouse or a significant milestone, like 20 years together, there are few places more romantic than Ambergris Caye.
You could plan any number of romantic activities on the island, but this list is a great place to start. From sunrise to sunset, let this serve as inspiration for your own anniversary getaway to Ambergris Caye.
Wake Up in Paradise
To really spoil your loved one, you will want to select a romantic destination in Ambergris Caye for your accommodation. The Exotic Caye Beach Resort offers the perfect combination of comfort and privacy, which allows you to be alone as you watch the waves crash into the beach each morning at sunrise.
Make Memories Trying Something New
Just because it's your anniversary doesn't mean you have to skip out on the excitement. Plenty of studies show that trying something new together actually reinforces the romantic bond between couples, which is exactly what you want to do when celebrating several years together.
In the Hol Chan Marine Reserve, you can snorkel or scuba dive among the vibrantly colored tropical fish. If you have never gone surfing before, take a lesson for two, and try your best to stand up on the board.
Wine and Dine Over the Sunset
After an exciting day of adventure, get ready for a night of romance. Head to one of the many eateries right on the beach that offer fresh seafood and fine dining. There are local as well as international offerings at restaurants at the Exotic Caye Beach Resort and in nearby San Pedro. Sip a cocktail or a glass of champagne, and enjoy a fabulous meal as the sun sets over the ocean.
Moonlit Walk on the Beach
One of the perks of staying in a relatively secluded part of Ambergris Caye is that you can cap off your anniversary with a walk on the beach. Let the moon light your way as you walk hand-in-hand with your spouse. As you dig your toes into the sand, you will be hard-pressed to think of anything more romantic or memorable than this destination.
Ambergris Caye is one of the most incredible destinations for any anniversary thanks to its beautiful scenery, warm temperatures and opportunities for romance. Click here to learn more about the top accommodation choices on the island for your next getaway to Ambergris Caye, Belize.