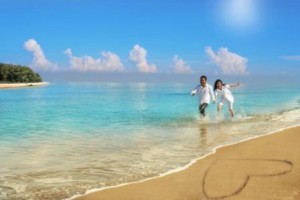 For newly married couples, the honeymoon is the perfect opportunity to savor married life. For a few days or weeks, you won't have the stress of wedding planning or the monotony of daily life, and you can completely relax and let loose in the ultimate destination.
Although couples can choose to spend their honeymoon just about anywhere in the world, there are few places that can compete with the stunning island of Ambergris Caye, Belize. Discover four of the top reasons that a honeymoon on this island can be the best time of your life.
1. Secluded Beaches and Privacy
One of the top things that brides and grooms desire in a honeymoon location is privacy and beautiful beaches. You want to avoid bustling, busy beaches with little room for intimacy and instead opt for the long, often empty beaches on islands like Ambergris Caye. Imagine walking on a strip of secluded white sand each morning with your spouse or even relaxing with a beachfront picnic at sunset.
2. Romantic Accommodation Options
For a honeymoon, chain hotels can feel impersonal and sterile. Instead, opt for somewhere like the Exotic Caye Beach Resort. You can enjoy privacy, a rustic but comfortable setting and personalized attention during your stay. Plus, there are even honeymoon suites to pamper yourself and indulge on this once in a lifetime trip.
3. Opportunities for Adventure
Although reclining on the beach with a cocktail is the perfect honeymoon for some couples, this island in Belize also offers plenty of opportunities to try something new. You might want to see sharks up close at Shark Ray Alley, snorkel with tropical fish at Hol Chan Marine Reserve or even learn how to scuba dive with a certified instructor.
4. Close to the United States
One of the perks of choosing to stay in Belize for your honeymoon is the fact that you don't have to travel far from the United States. Direct flights from much of the East Coast to Belize City is just a few hours, which means that you don't have to struggle with jet lag when you should be celebrating married life with your special someone.
To really make the most of your honeymoon, ensure that you pick a stunning location that is overflowing with romance. Click here to learn more about the Exotic Caye Beach Resort on Ambergris Caye in Belize.