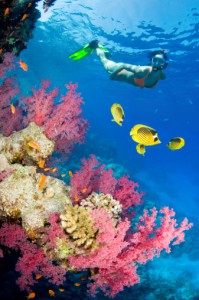 Ambergris Caye is an incredible tropical destination just off the mainland of Belize, and it offers an almost unending list of things to do, see and explore.
One of the reasons that it remains such a popular vacation spot, however, has to do with the incredible opportunities for underwater adventure.
Although scuba diving is a serious adventure, you don't have to go to such great depths to enjoy all that the marine landscape has to offer. Snorkeling is lots of fun, and you don't have to have any special training or expensive equipment in order to make the most of the pastime.
From colorful fish to fascinating coral and even sharks, you can see it all while snorkeling on Ambergris Caye.
Discover the Thrill of Shark Ray Alley
If you are looking forward to something unique and truly memorable, then snorkeling in Shark Ray Alley is definitely something you will want to consider. In decades past, this area was where local fisherman cleaned their catch.
As a result, it attracted sharks of all kinds. Today, the sharks who circle this destination are nearly docile, and they are fed by treats and chum from the locals and the guides who run the snorkeling tours. You can get right in the water and see manta rays, hammerhead sharks and Caribbean reef sharks in their natural habitats.
Uncover the Beauty of the Hol Chan Marine Reserve
If you happen to be staying in one of the wonderful resorts in San Pedro such as the Exotic Caye Beach Resort, then you will be just four miles away from the breathtaking underwater beauty of the Hol Chan Marine Reserve. Since the coral reefs within the reserve have been carefully preserved over time, they are home to a seemingly endless array of fish.
Along with tropical fish, sea anemones and beautifully colored coral in all shapes and sizes, many snorkelers are lucky enough to come across some large sea turtles who call the Hol Chan Marine Reserve their home.
Snorkeling Off The Coast
While guided boat tours can be an excellent way to explore the underwater landscape and see new creatures, you can also snorkel right by the coast. Many of the beaches are comprised of sand but become coral reefs just a few yards from shore.
Belize is a mecca for underwater enthusiasts, and there is certainly no shortage of places to snorkel on Ambergris Caye. Click here to learn more about planning your snorkeling adventure in Belize.