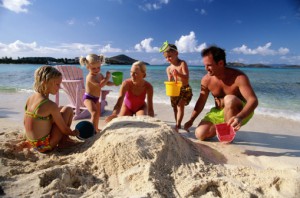 Ambergris Caye has already earned a fabulous reputation as a beautiful beach destination in Belize, and travelers from across the globe flock to the island in order to soak up the sun, enjoy breathtaking scenery and get active with outdoor recreation options.
While adults will love Ambergris Caye, children will also have a blast thanks to the amenities at the Exotic Caye Beach Resort on Ambergris Caye. Discover more about the fun things that kids can do while visiting Ambergris Caye, Belize.
Family-Friendly Activities on Ambergris Caye
The island of Ambergris Caye is brimming with things to do, see and explore, and that applies to both adults and children. Kids will love snorkeling in the Hol Chain Marine Reserve, and guided boat trips can ensure that they are safe.
In the town of San Pedro, families can explore the traditional markets, learn about the local culture and dine on tasty regional specialties. Families can also go sailing for a day, hop into kayaks from the shore or go fishing right from the beach.
Spacious Accommodations at the Exotic Caye Beach Resort
The logistics of traveling as a family can be more challenging that traveling alone or as a couple. You will want to find accommodation that is spacious enough for everyone to stay together, but it is still important to have privacy.
Thankfully, Ambergris Caye rentals like those at the Exotic Caye Beach Resort come in a variety of sizes. You can choose two bedroom condo suites, large rooms with pull-out beds and private balconies or even deluxe three-bedroom condo suites.
Resort Amenities to Keep All Ages Occupied
While there is plenty to do throughout the island of Ambergris Caye, sometimes it is most convenient to have things to do right at the resort. Just steps from your accommodation, you can walk to the marina, swim in the pool at the San Pedro Fitness Club or dine at the family-friendly MELT Cafe. Children will also love being close to the beach, and parents will appreciate the safety of the resort and the incredibly friendly staff who work there.
Ambergris Caye may be best known as a scenic beach destination with opportunities for romance, but families with children can also enjoy all that the island has to offer. Click here to learn more about the family-friendly accommodation options at the Exotic Caye Beach Resort.