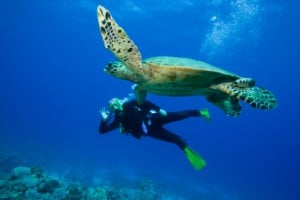 There are over 200 cayes off of the Belize coast, and the largest of these is Ambergris Caye. Visible from this caye is the world's second-largest living coral reef, one of the seven underwater wonders of the world at an amazing 195 miles long. The reef is only about a mile or so from the north shore, which means that you can access it by boat or kayak. Toward the south part of the caye, the reef is about 40 miles out.
Scuba Diving with the Fish at Ambergris Caye
With the reef within sight of Ambergris Caye, it is an immediate world-class draw for scuba diving tourists and locals, and it is easy to arrange snorkeling lessons and tours. While swimming in the crystal-clear, 79 to 84 degree water paradise among schools of tropical fish in every color imaginable and nurse sharks, you will float over spectacular coral formations, swim through tunnels and marvel at 200 feet deep canyons. There are so many dive sites that you may want to do two dives a day your whole visit.
Protected Hol Chan Marine Reserve is the Jewel of the Caribbean
The Hol Chan Marine Reserve, named after the Mayan term for Little Channel and protected since 1987, is the most renowned and visited part of the reef. It has had enough recovery time from over-fishing and diving to see a significant resurgence of marine life, and that lures scuba divers and snorkelers from all over the world who want to arrange a tour. The approximate three square miles of Hol Can Marine Reserve contains four zones: Reef, Sea Grass, Mangroves and most recently, Shark Ray Alley.
Different color buoys clearly mark each zone on the surface. Each zone features the main attraction in its name in addition to all the other marine life, such as Nassau Grouper, Moray Eels, Loggerhead Turtles and several types of sharks. It is an underwater photographer's dream. Eighty percent of marine creatures are nocturnal, so scheduling a night time tour can open up a whole new world for you. Click here to learn how to schedule snorkeling and diving tours.