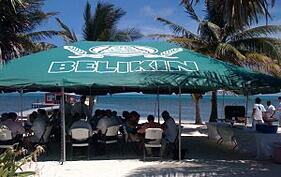 Ambergris Caye is Belize's largest island, and it is the perfect destination for your next corporate meeting. No matter what the size of your group, this island is the perfect getaway for work interspersed with relaxation, fun and fellowship. You will find well-equipped conference rooms, lovely views from every window and the perfect spot to relax, recharge and get your work done as a team. The beautiful setting, convenience of location and wonderful offers ensure that there is something for everyone in this stunning locale. Conferences and meetings on Ambergris Caye will be the most unforgettable your company ever has.
Beautiful Belize
Once known as British Honduras, Belize has the distinction of being the only country in Central America where English is the official language. However, visitors to this beautiful country will also hear lovely Spanish voice as well as Creole dialects floating through this idyllic location. The soft breezes, lovely waters and unspoiled natural environments enchant visitors to Belize and pull them back again and again.
The Perfect Spot for Your Getaway
It is true that there is something for everyone in Belize. The lovely beaches are unsurpassed by any in the Caribbean, kissed gently by the waters of the Gulf of Mexico and caressed by balmy ocean breeze. The rugged mountain terrain contains ancient mysteries such as Mayan temples that beg for exploration and discovery. Best of all, the people of Belize welcome visitors and do everything they can to make them feel that this is their home as well.
Lovely Ambergris Caye
Ambergris Caye is a large island just off the coast of Belize. Unlike the more frenetically-paced capital and other large cities on the mainland, Ambergris Caye, pronounced "key," is still considered small and isolated, giving visitors the feeling of going back in time to an earlier, more innocent age.
San Pedro, the only large town on Ambergris Caye, is an isolated and peaceful city but still provides everything your company could need for its next meeting. Conferences on Ambergris Caye provide the best of both worlds—a serene setting and the latest in modern technology to give you the perfect tools for your meeting. San Pedro locations can still provide you with Internet access, global meeting software, and the latest in projection or audio technology; however, you can also meet quietly and without interference from the rest of the world if you choose.
Holding your next conference at Ambergris Caye will ensure that you and your participants have a wonderful experience in one of the most beautiful settings on earth. Discover how perfect Belize and Ambergris Caye can be for meetings or conferences for any size group and how much everyone in your group will enjoy this location.