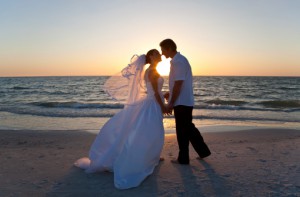 Weddings in Belize are becoming more popular because people want to combine their wedding with their honeymoon. You can tie the knot on Ambergris Caye, located just north of Belize City on a tropical island all on its own. With only one main town on the island, it's isolated enough to be romantic and yet large enough to have plenty of activities and accommodations.
Belize Weddings
Belize weddings are easy to plan. The various hotels and resorts can help with the appropriate licensing as well as having someone to perform the ceremony, a photographer and everything else that makes a wedding so important. Get married on Ambergris Caye to ensure all of the wedding photographs have paradise in the background.
It's possible to tie the knot inside one of the resorts, poolside or right on the beach. There are many couples every year that decide to get married in Belize on Ambergris Caye because of all that it has to offer. Think about what happens right before the nuptials. You're nervous and you need to relax. What better way to do that then to go onto the beach and sit in the sand. The morning of the wedding you may even decide to go snorkeling to help ease your nerves.
Walking down the aisle may be a little different from what you're used to. You may be walking barefoot in the sand instead. Weddings in the Caribbean can be a lot of fun and there is usually staff at the various resorts to help with every little detail.
It's in the Details
When you get married in Belize, there are a lot of little details to contend with. Where will you get married? Where will the reception be? Who will be the photographer? These are all things that you don't actually have to worry about. You will be able to work with someone at the resort you choose to stay at. They can walk you through the details over the phone or in person once you arrive.
The resort can help you book a photographer, order floral bouquets, schedule a restaurant for your reception and much more. Your wedding day should be special regardless of where you have it. Ambergris Caye weddings are very popular so the island is used to handling all of the details – which means you don't have to.
Whether it's just you and your partner or both of your families flying in, you need to make sure you choose the right accommodations. It can be advantageous to go for a resort as opposed to a hotel because they offer more services. This way you can be sure they will take care of your every need for the ceremony as well as the reception.
Dresses and tuxedos can be brought onto the island or you can decide to go with a more relaxed look since you're getting married on an island. There are various clothing shops throughout the main town of San Pedro where you can find all that you need. The staff can even help point you in the right direction for those as well.
All the details of your wedding can be handled. Once you decide to tie the knot in Ambergris Caye, Belize, your work is done. You can turn the rest of the planning over to the resort staff.