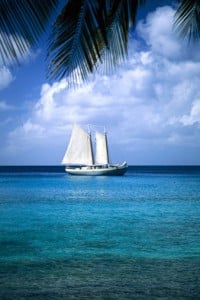 Ambergris Caye is a small area of Belize that's tucked away from all of the excitement that is otherwise known. When you plan a trip to this island paradise, there are blue waters everywhere, including at the Exotic Caye Beach Resort. With many hotels in Ambergris Caye, you have to choose one that's going to let you explore the water – up top as well as down below.
A resort on Ambergris Caye can simplify life for you. The resort should focus on a classy room as well as provide you with services to help you explore more. If you have to do everything on your own, it's not really a vacation. This means you have to find the right resort to provide you with a real vacation.
Boating & Sailing
One of the first ways to explore the stunning blue sea is to stay on the surface of the water. This includes taking advantage of the various boating charter trips where you can enjoy a dinner at sunset, a fishing trip or just a tour around the island. You can also rent a sailboat for the day and do some of your own exploring of the Caye.
As you think about how you want to go boating and sailing, you have to make a decision. If you stay at some hotels on Ambergris Caye, you will be making all of the reservations on your own. If this is your first trip to Belize, you don't know which places are the best to do this. As a tourist, you may end up paying too much money.
With Exotic Caye Beach Resort, the staff will take care of everything for you. Many boats are available for rent right from the resort and they also offer many different tours. This way you don't have to do anything but decide when you want to go out on the open seas.
Snorkeling & Scuba Diving
After you've had a chance to explore the surface of the water, you should be ready to dive down and see what's in the depths. Snorkeling allows you to stay up top while scuba diving allows you to get deeper, looking at the corals, the plant life and the hundreds of tropical fish that swim all around you.
Not every resort on Ambergris Caye caters to your desire to explore the water. When you're booking accommodation in the area, you have to consider who is going to make it easy for you to get outside and enjoy the water. Restaurants and shows and sandy beaches are all over the island. But when you want to say you've been to Belize, you have to say that you have been in the water. It's hard to stay away from the beautiful blue pools of salt water. Sure, some hotels on Ambergris Caye may have a swimming pool, but those are man made. You should want to see the marine life because it's part of the charm of Belize.
You always have choices. When you visit Ambergris Caye, whether it's for a few days or a few weeks, you want to make sure you don't have to do any work. You should be able to play when and where you want. If your desire is to play in the water, you need to find a resort that will help you do just that without having to work at it. Once you have gone out on a boat and swam around with the tropical fish, then and only then can you say that you have properly visited Ambergris Caye in Belize.